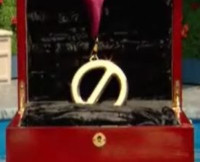 The Big Brother 14 drama continues today with the Veto competition. The Power of Veto comp follows the nominations last night and should provide yet another round of fuel to this house's blaze. HGs have been arguing and fighting since the noms were revealed and it's made for an incredible amount of drama in the house. Just the kind of drama that makes for great Live Feeds for us to watch all weekend.
I hope you've joined us on Facebook and Twitter and grabbed our apps for mini-updates through the day so you don't miss all the fun.
Read on to find out who won the Veto and what that could mean for the game this week.
Big Brother 14 Spoilers: Week 6 Veto Competition Results:
Frank won the Veto Competition.
It's worth noting the Live Feeds were out for a full seven hours nearly on the nose for this Veto comp. Later we learned several HGs had been sleeping for hours since the end of the Veto comp. Seems we were blacked out for some other purpose.
The players in this week's PoV competition were Shane as HoH with Frank and Boogie. Both Boogie and Frank drew "HG's choice" tokens during player selection which is highly unusual if not a first for Big Brother. Ian, Ashley, and Jenn were selected to play along. Boogie and Frank saw this as them effectively controlling all but Shane's spot in comp as they consider Ian on their side and Ashley & Jenn as non-competitors.
Before the Veto comp there was a brief bit of drama for Live Feed viewers. Flashback to 12:06PM BBT to hear Frank describe a suspicious situation to Boogie. It sounds like he is detailing how he had to redraw a token, but he says he held on to a token for the "players pick" segment and drew it a second time. Fish are mixed in, but when it comes back Boogie tells Frank to never mention that part again. Sounds like they're hiding something. Did Frank do something he shouldn't have? You listen and decide.
Post Veto, Ian and Danielle are discussing that Frank will come down but wondering who will go up. Ian confirms he's not in danger. Sounds like Boogie will go home. Ian asks Dan and Danielle if they "got the talk in the DR." Ian also details how HGs are upset at Ashley for seemingly throwing the game or helping Frank win. It's also mentioned later that Joe saw Frank and Boogie cheating, but Fish immediately cut in and we don't get more details on that. Geez, lots of suspicious cover-up activity today.
Jump on the Live Feeds right now to watch the house react. You can check out the in-house uncensored cams with the Free Trial and then keep it for fifty cents a day. That's a cheap price for a summer of Big Brother fun.
The Big Brother 14 Veto ceremony is expected to be held on Monday and we'll know for sure then if it's used. Stay close by and we'll share those spoilers.
What do you think of the PoV Comp results? Should it be used at the ceremony?
click images to see full-size