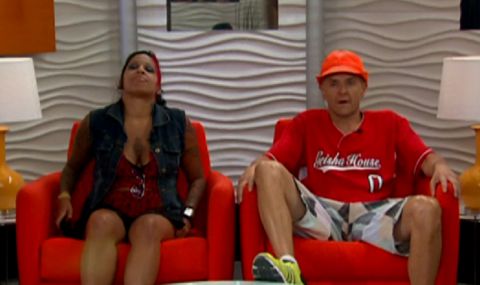 Tonight on Big Brother 14 we're going to get a whirlwind episode featuring a double eviction. That means we'll get an entire week's events in one show. These are always intense and exciting. Remember last year's clown shoe event? Oh yeah.
I'll be updating this post here with the double eviction, veto competition, and HoH results as they're revealed on the show. Have your Live Feeds ready to go (Not signed up yet? Use the Free Trial!) because when the broadcast show is over the Live Feed will return and that's where the real action will be. Last year the HoH competition results were revealed on the Live Feeds rather than the show so you'll want to be able to watch.
Big Brother 14 Week 6 Live Eviction voting:
Ashley: evict Jenn
Britney: evict Boogie
Joe: evict Boogie
Frank: evict Jenn
Dan: evict Boogie
Ian: evict Boogie
That's all it takes. Boogie is evicted.
Danielle: evict Boogie
By a vote of 5-2, Mike Boogie is evicted.
Unfortunately for Ian, he outs himself to Boogie just before he leaves. Boogie whispers to Frank, "Ian is not to be trusted." If only Ian had kept his mouth shut a little longer…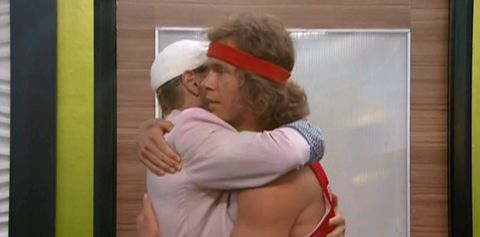 Big Brother 14 Week 6.5 HoH Competition – 'Before & After':
Round 1: Ashley is out.
Round 2: Joe, Jenn, & Dan are out.
Round 3: Frank is out!
Round 4: All are safe.
Round 5: Britney is out. Ian & Danielle are left
Round 6 – Tie-Breaker: Ian is the new HoH!
Ian is the new HoH for tonight's Fast-Forward event!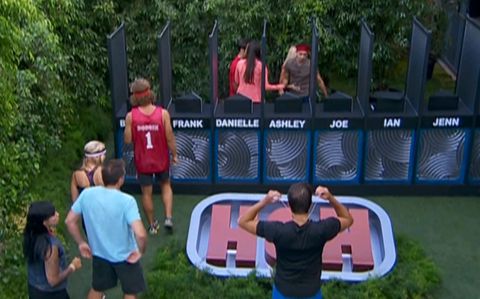 We get a moment of Ian threatening Joe that either he gives him safety next week or he goes on the block. Everyone then runs in to couches. Ian says he was scared by what Frank said after Boogie warned him not to trust Ian. Sure enough, Ian nominates…
Big Brother 14 Week 6.5 Nominations:
Shane, Danielle, & Joe will join Ian, Frank, & Ashley in the Veto comp.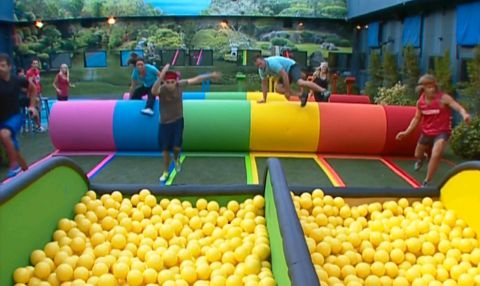 Just like last year's "Clown Shoe" competition, HGs have to find two items and be the first to bring them both back and grab the Veto. Ian gets the first one early, but Frank catches up quickly.
Big Brother 14 Week 6.5 Veto Competition – 'Somewhere Over The Veto':
Whoa! Ian took the lead, but Frank wins the Veto!
Get your Live Feed Free Trial & Watch Big Brother Live!
Big Brother 14 Week 6.5 Veto Ceremony:
Frank uses it. Ian renoms Joe in his place.
Just before the vote both nominees have a chance to plea their case. Ashley wanders, mumbles, and slurs her way through her talk before Julie cuts her off. Joe goes on to make what Dan has called the greatest speech in the game. Watch and see what you think:
Big Brother 14 Week 6.5 Live Eviction voting:
Jenn: evict Ashley
Shane: evict Ashley
Britney: evict Ashley
Frank: evict Joe
Danielle: evict Ashley
That's it. Ashley is evicted.
Dan: evict Ashley
By a vote of 5 to 1, Ashley is evicted from Big Brother 14. She is the 1st jury member.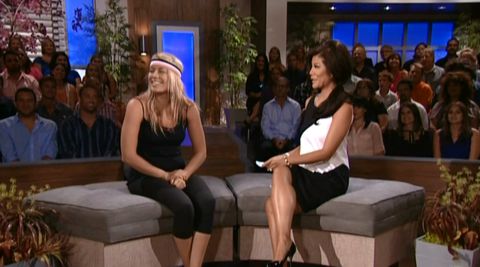 The next HoH competition won't be on tonight's show. Instead it'll be held soon in the house and we'll be able to watch the results revealed only on the Live Feeds! Get your Big Brother Live Feed Free Trial rolling right now and be ready.

Click Here to Get the Big Brother Live Feed Free Trial
Once the eviction show is over the Live Feeds turn back on and we'll either have a brand new HoH in the Big Brother house or the HGs will be preparing for that competition. Make sure you're ready to watch the house react to who is in power. The nominations will be revealed on Friday night with the Veto competition on Saturday, so stay close by!
Update: The second HoH competition is over and we have a new Head of Household! Find out who won and has the power to make the next set of nominations.