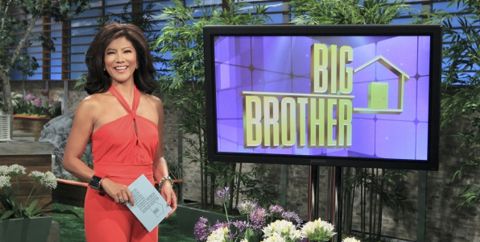 We're in for a real treat tonight on Big Brother 14. Instead of the usual routine of a clip show segueing into the live segment for a vote and new competition we'll get a jam-packed night of action with a double eviction. Let's take a look at how the Big Brother Double Eviction should play out.
Host Julie Chen will rush the HGs through an initial round of voting where we expect Mike "Boogie" to draw the most votes and be sent out the door. Meanwhile, back in the house the HGs will scramble out the door to compete in what I figure will be a Q&A competition. The winner will be the new HoH and have to immediately make nominations. After that we'll get a Veto competition followed by a Veto ceremony. Which ever HGs are on the block after that will face off in the second round of votes.
It won't be over then either. Instead the remaining HGs will head back outside to begin the next HoH competition. Last night we watched the HGs practice a new skill challenge and everyone had a chance, including the current HoH. That makes me assume what we saw will be the second HoH competition and could be a tournament style game like we saw last season with the snake-balance comp. I posted a picture of the HGs practicing the new challenge on Facebook which is another great reason why you should join us on Facebook to get those updates.
It's quite possible that we won't see the end of the second HoH competition during tonight's live show. There just might not be enough time. If that happens then we'll be watching the Big Brother Live Feeds to catch the results. Either way, the tension will be high and you won't want to miss that action coming across the in-house cameras that you can only watch on SuperPass. Sign-up now and get a free trial.
Think you know who will be evicted tonight on Big Brother 14? Cast your prediction vote in our weekly poll and see what other fans expect. Then check back here tonight during the live show for the results as they happen. This will be a great night!