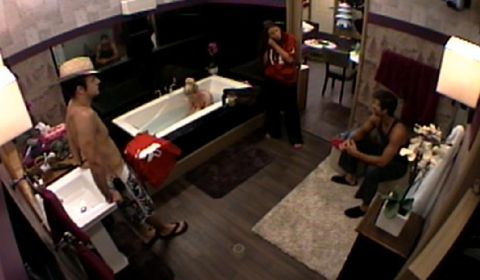 After an extremely adventurous night on the Big Brother 14 Live Feed we have a new HoH and are marching our way toward another nomination ceremony. It's time to take a look and see what nominations we can expect later today.
Danielle should have an easy choice but of course that means everyone is going to be this far more complicated than it needs to be. She's been back and forth on who to nominate all day long.
Before we get to who could be in danger we can put a few people down on the "safe" list. At the end of the competition we saw Danielle make safety agreements with Ian and Britney. They're safe this week. There's also no chance Danielle will nominate her former coach, Dan, or her aspiring showmance, Shane. That leaves her with 7 options.
Flashback to 4AM BBT to hear Janelle and Danielle chat about her options in the HoH room. Nothing concrete is discussed, but Danielle probes Janelle for feelings on Wil and Frank. She'll be back to those names soon.
Dan and Danielle review their nomination options at 11:28 AM BBT on Flashback. Danielle is proposing Frank and Wil. She is hesitant to anger Wil since she feels he's been on her side so far. Both agree that Frank has simply got to go this week. Is the third try the charm?
A few minutes later they debate backdooring Frank with a Joe and Wil nomination pairing. That doesn't last long before Danielle decides they need to go straight for Frank with a nomination.
Britney visits Danielle in the HoH room at 12:17PM BBT and asks what she's decided. Danielle replies, "Frank and Wil."
Jump to 1:45PM BBT and you'll find Danielle talking with Britney and Dan. They're confirming Frank and Wil as the targets for this round. They want Frank out as the main target, but it sounds like they'd happily settle for Wil's eviction if it came to that.
Well I think that's settled. We're just a few more hours from getting the official nominations, but for now it seems safe to expect Frank and Wil with Frank as the main target. Do you think Danielle is making the right choice?
Watch along and see what happens next with the Big Brother Live Feeds – Free Trial!
Update: As of 5:15PM BBT Danielle is panicking that Wil isn't working with Frank and now wants to put up Frank and Boogie. Hmm. This could be a last minute swap.
Update 2: Janelle, Britney, and Dan have been trying to persuade her to not nominate both Frank and Boogie, but she's nervous one wins Veto and saves the other. Flashback to 8:40PM (before and after) for this discussion.