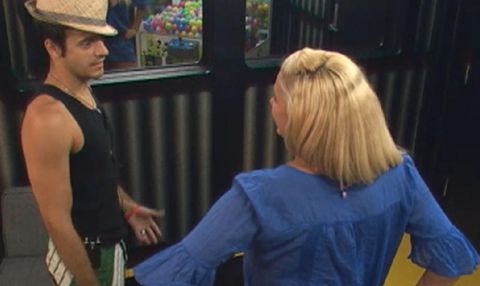 We're a little more than a day away from the next Big Brother 14 eviction so it's worth taking a look at how things are likely to work out.
There will be nine votes this week thanks to the influx of coaches late last week which means five votes will yield safety. Janelle has been working the house to gather those votes while Frank has been mostly sitting back and relaxing. Looks like his confidence is warranted.
The newly minted "Silent Six" alliance holds four of the votes since members Frank and Danielle won't be voting. All they need is one more vote to eliminate Janelle. Ian, as a side alliance member with Britney, Dan, Danielle, and Shane can provide that fifth vote to secure Janelle's eviction.
What about the other four votes? Jenn, Wil, and Ashley are all planning to evict Janelle out on Thursday as well. Joe seems to be the lone holdout but that's mostly because HGs are keeping him in the dark. When Shane told Britney Joe said he'd vote how they wanted, Britney told Shane to not tell Joe. She wants him to be the sole vote to support Janelle so he can be a scapegoat for eviction next week.
Meanwhile Janelle is being lied to left and right. Wil has promised her his vote while swearing on his dog's life though he later told others he was crossing his fingers. Shane has told Janelle he'll support her and Britney indicated she'll cast a pro-Janelle vote as well. Dan even told Janelle this afternoon that he'll vote to keep her if she has the votes, which she said she did because she thinks she does. Dan seemed surprised and got Janelle worried when he said he hadn't even talked to Britney about the votes. None of these HGs are going to vote to keep her.
I don't know how Janelle hasn't figured this out, but she may be just as blindsided by her Big Brother eviction as she was by her nomination on Monday.
Sign-up now and watch along on the Big Brother Live Feeds and see what's happening inside the house as it happens with the uncensored, in-house cameras.
Do you think the house is making the right choice? Should Janelle or Frank go next?