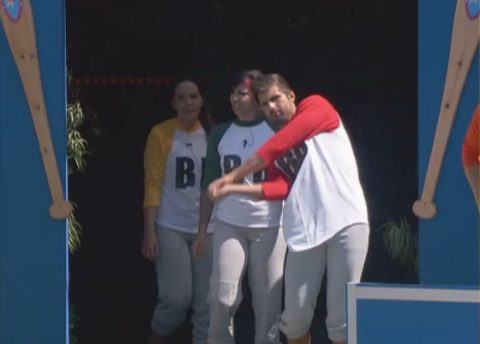 Wednesday night's Big Brother 14 included a unitard, a dog costume and a major blindside. But before we get to how Danielle's power played out this week, let's back up and start from the beginning.
The episode picks up right after Danielle (and by Danielle I mean Dan) nominated Frank and Wil. Dan made Danielle nominate Frank to finally get rid of him so he can focus on getting the coaches into an alliance. Wil is just a pawn at this point, also suggested by Dan. So Dan got them up and Danielle gets to take the credit for it.
Danielle is upset for putting up Wil since she promised him he was safe so she pulls him to the HOH room and does a little crying and tells him he is just a pawn. He says he's OK with it even though he just said something about Southern belles going to hell in the Diary Room.
Frank and Boogie aren't surprised Frank is up for the third time this season. Frank makes fun of everyone by wondering why he's even a threat to them since he's competed in EVERY competition and has only won one (and that was a memory quiz).
Janelle and Dan are already banking on Frank going home this week, so they want to feel Boogie out about working with them and Britney as a former coaches' alliance. Boogie says he isn't interested in working with people he can't trust. He's still upset that they were all about to blindside Frank last week  before the game was reset.
Ian finally realizes Boogie isn't going to have his back now that he's no longer a coach, so he reaches out to Britney and Danielle and an alliance is discussed. A little later, they solidify an alliance of Ian, Britney, Shane, Dan and Danielle. How solid is this? Eh. You'll find out later.
It's time to pick the veto players. Joining Danielle, Frank and Wil in the game will be Shane, Jenn and Ian with Dan as the host.
Frank and Janelle have  a little chat about alliances and such. Janelle says she doesn't really have anyone and hints at joining up with Frank. She's not really serious, of course, but we have no way of knowing what she was up to. Britney notices the two of them talking and gets paranoid. She shares the information with Dan and Danielle and we are introduced to a new personality of Danielle's — one that imagines things, exaggerates things and flat-out lies. You may not have seen this in the episode, but you can read all about that in an earlier post.
Danielle says Janelle "Infuriates" her and so there's a new seed planted and if things go a certain way during the veto competition, Dan will have to talk Danielle out of targeting Janelle. Because as Dan says, she and Britney tend to play the game too personally.
At the veto competition, the game is called Field of Veto and it's a baseball theme, but the game is more like a ski ball game. The players have to roll the ball and hope it lands in the circle with the most points. After each round, the person with the lowest points will be out and will have to pick a prize. Then each person out after will do the same but will also have the option to trade their prize with another.
The Veto Results:
Round One — Shane is out. He picks the Power of Veto.
Round Two — Wil is out. He picks a veto ticket and trades with Shane.
Round Three — Jenn is out and picks a Maui vacation. She keeps it.
Round Four — Ian is out and he picks Live a Dog's Life. He keeps it.
Round Five — Frank is out, picks $5,000, trades it with Wil for the Veto.
Round Six — Danielle wins and picks the "spirtard." She trades with Frank and ends up with the Power of Veto.
Boogie and Frank decide it might be worth a try to try to talk to Dan about working with them and convincing Danielle to take Frank off and put Janelle up and send her home. Boogie heads up to talk to Dan and Dan is still only interested in working with the coaches. Britney and Janelle come in and join the conversation, hoping to solidify a coaches' alliance.
Boogie and Janelle talk about ditching their players, but neither will budge. Boogie refuses to leave Frank and Janelle won't discuss unloading Joe. So for some reason, Boogie, Britney and Dan decide Janelle is being shady because she won't stop working with Joe. Even thought Boogie won't give up Frank, Britney won't give up Shane and Dan won't give up Danielle. But for some reason, it's only wrong when Janelle refuses. So Britney and Janelle leave and Dan decides that was enough to take Boogie up on his idea. And since Janelle already "infuriates" Danielle, it should be easy. Well, for that reason and the fact that all of her other decisions have been made by Dan as well.
Danielle and Boogie talk and Danielle is sold, but still has to make sure it's the right decision. And by that she means make sure Dan's on board. So Dan, Britney, Shane, Danielle and Ian decide they will take Wil off the block (to make it less obvious they're saving Frank) and renominate Janelle.
Ian goes off and Frank and Boogie end up in there and the others tell them the plan. They then form the "Silent Six" alliance and Frank is poised to escape the block a third time. Oh, and I guess Dan, Danielle, Britney and Shane forgot about their alliance with Ian. Typical.
So it's time for the veto ceremony and Danielle takes Wil off the block and renominates Janelle. She is completely shocked and in typical Janelle fashion is first upset that she didn't get to put on makeup. Had she known she was going up, she would have worn a cute outfit, she says. When she really should have been upset by the completely random blindside that won't even let her defend herself.
So either Janelle or Frank will be going home Thursday night. Who do you think will be heading out the door?