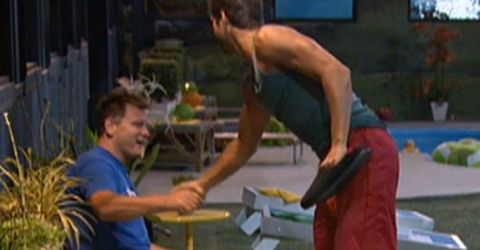 Later today the Big Brother 14 Veto ceremony will be held and right now there are a few potential scenarios for how it could all play out. Still nothing is simple or straightforward this season as we've been quick to discover. Read on to see what some of the HGs are expecting to happen at the Veto ceremony later today.
Now that Shane holds both the HoH and the PoV powers he'll have complete control over the way this turns out. If he decides to leave things alone that it's quick and easy. If he decides to use the Veto then he'll also have to decide on a HG to renom and fill that vacancy on the block.
On Saturday, immediately following the Veto competition Shane proclaimed that Joe was done and gone. He seemed to have no interest in negotiating, deal making, or considering any alternatives to the upcoming eviction on Thursday. That might have changed as of a late night debate.
Flashback to 1:35AM BBT Cams 3/4 to hear Shane, Britney, Wil, and Danielle throwing around the idea of taking Frank out via a Veto renom. The new plan is to take Ashley off the block and put Frank up in her place. That would leave Ian and Jenn most likely voting to keep Frank while Ashley and Wil vote to keep Joe. Danielle would break the tie by voting out Frank in a 3-2 final tally on Thursday's Big Brother.
At 2:35AM BBT Cams 1/2 you'll find Shane and Joe having a talk about Shane's new plan. Shane warns Joe that Danielle is going to indicate she'll vote to keep Frank, but that's just intended to deflect Boogie. Lots of proverbial smoke blowing and praise between these two. We'll see how long this cordial behavior lasts if Joe does stay.
Here's my concern, and apparently I'm not alone. On Friday Shane was all set to nominate Frank but then in the 11th hour he suddenly has a change of heart and puts his key in the mix. So now we're back in this spot where Shane says he's going to nominate Frank, but nothing will force him until he has to make that decision.
Flashback to 3:15AM BBT Cams 3/4 to hear Danielle giving Shane grief about his flip-flop nominations. She does not want to see him making another last minute change when it comes to this week's Veto ceremony. Shane promises her he won't do it again. We shall see.
What do you think Shane should do? Stick with his current Big Brother 14 nominations and put that Veto back in the box? Or should he go with this new plan to save Ashley and renom Frank for Thursday's eviction?
Today should be full of drama as we get ready for the ceremony in the afternoon and then deal with the fallout from whichever way Shane decides to go. You can only watch it on the live, uncensored in-house cams so grab your Free Trial and get to enjoying the Live Feeds with the rest of us. Or just wait three more days to get a hastily cut and compressed version of the events in a way CBS wants you to see them. Your choice.
click images to see full-size