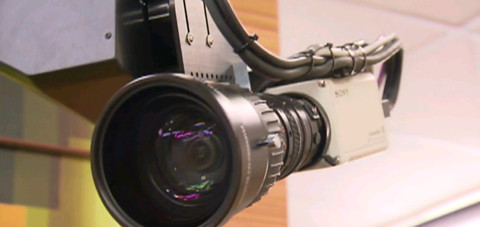 There wasn't a lot of action going on in the Big Brother 14 house and on the Live Feeds Sunday. Most of the house guests took the day to relax and not talk so much game. Joe did his share of campaigning to Shane to be removed from the block. Janelle spent a lot of the day doing the same. So far, Shane has considered it, but there's still a lot that can happen before the Veto ceremony and before the live episode Thursday. Read on to find out what we saw and heard yesterday on the Big Brother Live Feeds.
Curious about the in-house cams? Read our FAQ: What are Big Brother Live Feeds?
Big Brother 14 Live Feed Highlights – Sunday, July 29, 2012:
10:10 AM BBT — Joe tells Boogie he wants to make a deal to stick around for two more weeks then will volunteer to go. This all sounds pretty ridiculous and desperate and Boogie knows that.

11:38 AM BBT — Boogie tells Frank about Joe's two-week plan. They laugh.

12:58 PM BBT — Britney and Janelle talking about who would be on the next Big Brother All Stars edition. Janelle says she wants to have more kids so doesn't think she'll be back to Big Brother again after this time.

1:57 PM BBT — It's pool time. Most HGs are lounging around the pool.

3:33 PM BBT — Janelle, Dan and Britney agree that this week's live show will include the announcement of jury or some twist. And they're right as the coaches will most likely be entering the game this week.

3:35 PM BBT  — In case you were wondering, Janelle is opposed to getting vaginal rejuvenation.

3:58 PM BBT — Janelle tells Joe to act like he's resigned himself to going home and she'll keep working it for him to stay.

4:05 PM BBT — Shane and Danielle think the coaches definitely aren't coming in the game.

4:20 PM BBT — Joe and Shane talking in HOH. Joe doing everything he can to get Shane to take him off the block. Joe talks and talks and talks and talks. He tries to make secret alliances and throws Wil under the bus. Joe is working pretty hard. He hasn't just laid down to die. Shane says he's considering it.

5:20 PM BBT — Dan tells Shane he doesn't trust Boogie.

7:03 PM BBT — Wil telling Shane and Britney his biggest threat is Ian. He starts pushing for an Ian backdoor plan. Which sounds kind of ridiculous, but he's trying to save Joe and Ashley.

7:30 PM BBT — Shane considers working with Wil. He's asking Ashley if he is trustworthy.

8:50 PM BBT — Janelle and Britney are in a long conversation in the HOH room. They're 100 percent convinced they're going in the game this week. Production keeps cutting in because  Janelle is talking about producer Allison Grodner telling them to "expect the unexpected." Britney thinks her husband sent her clues in his letter. Worth a watch for sure. Janelle again realizes that the two of them should be working together if they go in the game.

10:20 PM BBT  — Janelle in backyard with Joe and Wil at various times, talking game and their chances of saving Joe. The talk goes to future plans to nominate Frank and Ian and backdoor Shane.

1:40 PM BBT — For the past couple hours, talk of backdooring Frank has been going on and at this point, it looks like it might actually happen. What happened to Shane's side deal with Frank and Boogie is unclear.
Today was actually a nice mixture of game and fun. These are the kinds of days that are the best. Too much game talk and flip-flopping on completely open days are just too much. And this season has been so hardcore so fast, these milder days are a welcome change.
You can catch all of these Big Brother 14 events using Flashback, the DVR-like feature of this year's Live Feeds which means it's always live, even when you missed it! Sign-up now to get the free trial to watch it all live & uncensored!
click images to see full size