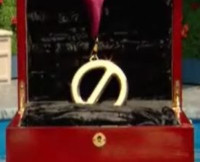 The Power of Veto Ceremony has finished for this week of Big Brother 14. The drama is going to be high after this one. Good times ahead on the Live Feeds so don't miss this action! Read on for your Big Brother spoilers to find out if the PoV was used and what happened next.
If you're just now getting caught up, the Veto competition was held on Saturday, but we won't see it on CBS until Wednesday's broadcast. Stay up on your Live Feed reports for the latest news.
At today's Power of Veto Ceremony, this week's winner of the Veto, Shane, decided to take Ashley off the block. As the current HoH he was also in charge of handling the renoms so in her place Shane nominated Frank for eviction. This is coming as a bit of a shock to Frank as they had negotiated a deal and Frank had obviously managed to escape the first round of nominations. Of course most of us expected it since we have the luxury of seeing every secret meeting going on in the house!
What do you think? Which of these two nominees should be evicted on Thursday? Frank or Joe? Share your thoughts below.
Be sure to sign-up for the free Big Brother email updates, join us on Facebook, follow us on Twitter, and grab our free Big Brother apps and Big Brother Toolbar.
click images to see full-size