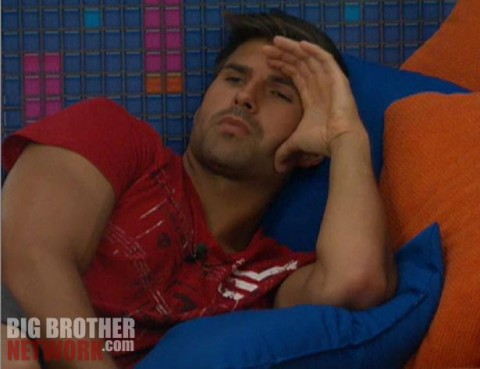 We've now stepped into the third week of game on Big Brother 14. There's a new head of household and therefore another shift in power. It's time to take a look back on the week and figure out who played the best and worst game.
The Top 2 Players:
1. Shane: There's basically no one else but Shane that played hard enough to fit into the No. 1 spot. He was on the block this week next to JoJo and he won the Veto to take himself off. That's his second veto in a row. And not to mention he started off week three with an HOH win. And he's not just ruling the physical game. He's not playing a bad strategical and social game either. He's made some deals with Frank and Boogie (that benefits them more than him this coming week), but he was planning ahead. He probably could try to smooth things over with Janelle's team, though.
2. Ashley: While I think he methods are a little sloppy, Ashley is playing a pretty sweet social game. She has aligned herself with every angle in the game. And as long as she doesn't get caught up in it that's a very smart move. I think she's definitely lacking at the physical game, but maybe that's her strategy.
The Bottom 2 Players:
1. Jenn: I sometimes forget she is even in the house. She's not really playing any angle. Her physical game is non-existent. Her social game isn't much of anything either. She's just so quiet and that's surprising for a rocker girl. Maybe she'll jump out of no where later, but right now she's No. 1 only in floating.
2. Ian: The resident genius has continued to disappoint me. He's using his brain and Big Brother expertise only for good and not evil. He acts like he's living out a Make-A-Wish Foundation grant by being able to live in the Big Brother house and eat slop. Play the game, Ian!
Coach of The Week: Boogie. He really is the only coach playing the game. He was Frank's complete puppet master and he's got Ian by the strings too. Boogie did kind of blow the coaches' competition, but I'm still not sure that wasn't intended.