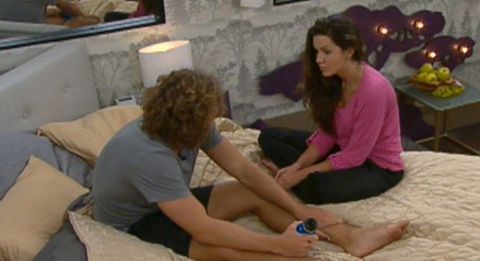 Later today on Big Brother 14 the Power of Veto ceremony will be held and Frank will be faced with a few options on what to do next. We've been expecting one obvious decision, but now it looks like there could be a new plan. Frank just doesn't know it yet. Read on to find out what's going on as we head toward today's Veto meeting.
Shortly after Frank was crowned as this week's HoH we knew his plan was to nominate Willie and Shane. That plan was quickly demolished and in its place arose the targets of Shane and JoJo. Well you can toss that plan in the trash too now that Shane has secured his safety with a second straight Veto win. The new idea was set to follow Frank's backup plan: nominate Danielle in Shane's place and send Dan and Danielle packing from Big Brother.
Flashback to Saturday at 9PM BBT to hear Frank break the news to Danielle. Danielle understands she's being targeted for her association with Dan, but Frank insists it's more than that. I doubt it. If Danielle goes up on the block and heads home then Frank may have wasted his week as HoH. That might not happen though.
Late last night, Flashback to 1:37AM BBT, Shane revealed his latest plan to JoJo. He trusts Frank won't expose their discussions and plans to suggest Wil as the replacement nominee instead of Danielle. Shane believes they have the votes and can knock out one of Janelle's players. We've yet to really see Wil compete, but he does have an excellent social game and could become more of a threat in later rounds.
Would Frank seriously consider that alternative plan? I don't see it being out of the realm of possibilities, but it'd risk angering Janelle against Boogie as they're just starting to get along. Plus there's another storm brewing that might make the replacement nominee moot. Boogie and Frank have begun to discuss eliminating JoJo and keeping Danielle, or whoever the replacement nominee might be.
What do you think Frank should do at today's Power of Veto ceremony?
The only thing we know for sure is this plan is likely to change again and again between now and Thursday night. The Veto ceremony will be held Monday afternoon and we'll have those results for you as soon as they hit. In the meantime, enjoy your Live Feeds and watch what these HGs are getting up to today.
Be sure to join us on Facebook, Twitter, and get our free apps for the latest updates.
click to see full-size