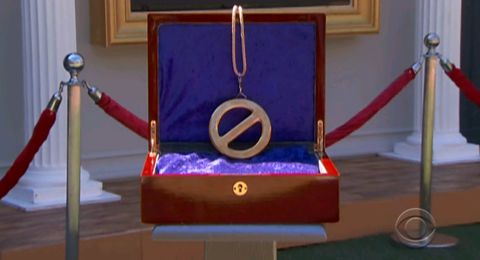 The Big Brother 14 Power of Veto competition has finished and we have discovered who holds the power to veto one of this week's nominees.
Today's Veto will help decide whether or not the Quack Pack's remaining members all move on to the next round. If Jenn wins it then another Quacker falls, but considering Dan is still in the mix he may be able to negotiate getting out which ever HG best serves his needs. Will he turn on his fellow QP'ers? Of course. The question is "when?".
I hope you've joined us on Facebook and Twitter and grabbed our apps for mini-updates through the day so you don't miss all the fun.
Read on to find out who won the Veto and what that could mean for the game this week.
Big Brother 14 Spoilers: Week 9 Veto Competition Results:
Shane won the Veto Competition.
With just five people left in the game everyone participated in this week's Veto comp.
Feeds returned after 3.5 hours of Trivia, but HGs revealed the competition only lasted about 5 mins. Jenn went to sleep while the other 4 HGs hung out in the kitchen. It took about 30 minutes but Ian whispered congratulations to Shane. Now we'll have to wait and see if Shane will use it, the obvious decision, or will he be worried that Danielle goes up in his place and is mad at him. He probably feels confident about his chances, but I wouldn't with Dan on the loose.
Jump on the Live Feeds right now to watch the house react. You can check out the in-house uncensored cams with the Free Trial and then keep it for fifty cents a day. That's a cheap price for a summer of Big Brother fun.
The Big Brother 14 Veto ceremony is expected to be held on Monday and we'll know for sure then if it's used. Stay close by and we'll share those spoilers.
What do you think of the PoV Comp results? Should it be used at the ceremony?