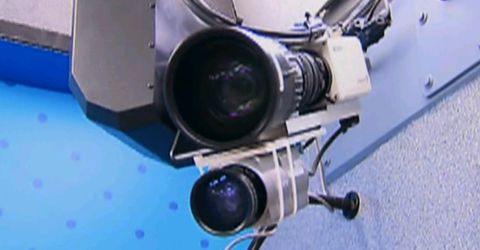 Big Brother 14 continues to wind down but thanks to Jenn's anger and Danielle's drama, the Live Feeds remain pretty active for what some think is a pretty boring final five.
Jenn is trying to do some campaigning and she's almost saying the right things, but not quite. Maybe she'll figure out the right things to say by the time they tape Wednesday night's special eviction show. Probably not.
So we got a nice preview of what the house will be like when we just have a final three. Read on to find out what happened in the house on Sunday.
You can rewatch all of these events with Big Brother Live Feed Flashback
Big Brother 14 Live Feed Highlights – Monday, September 10, 2012:
9:47 AM BBT — Houseguests waking. Ian is in the pool already.

10:42 AM BBT — Danielle is putting on makeup, Ian and are eating breakfast and Jenn is sunbathing. It's definitely the final five folks.

11:17 AM BBT — Feeds cut for Veto Ceremony.

11:52 AM BBT — Feeds return. Shane used the Veto on himself. Danielle was put up as the replacement.

11:54 AM BBT — Jenn and Ian talking about the ceremony in the Arcade Room. Jenn is heated and raising her voice. She's confused why Ian didn't put up Dan. She reminds Ian that Dan has won Big Brother before. Finally someone remembers that important piece of information.

12:14 PM BBT — Jenn now talking to Shane. She's making her pitch to him to stay, but she's not saying any of the right things (like the final three deal she has with Danielle and Dan) or anything that will actually make Shane vote to keep her. Nice try, Jenn. Wait, no. That wasn't a nice try at all. That was a terrible try.

12:18 PM BBT — Dan and Danielle talking about what to tell Jenn about the fact that she's going home.

12:38 PM BBT — Danielle starts talking about her terrible relationship with her dad.

12:50 PM BBT — Jenn asks Ian if he has a final two deal. He tells her he doesn't.

1:00 PM BBT — Danielle tells Dan that she has a lump in her breast. She says it's not cancerous but scar tissue.

1:38 PM BBT — Danielle and Dan's conversation goes on. She tells Dan that she has had breast implants despite saying she didn't. She says luckily the mass in her breast has attached to the implant. Otherwise she'd have to have chemotherapy. Not much of what she's saying is making sense since the mass is not cancerous, but I'm not about to get into that here. Let's just say Danielle has  made anything she says hard to believe.

2:15 PM BBT — Dan is reversing Danielle's game onto her and playing concerned that she's going to pick Shane over him. She assures him that she will not do that.

5:00 PM BBT — HGs are put on indoor lockdown.

6:15 PM BBT — Dan whispers to himself that he can't mess around with Shane anymore and that he's got to go. He's clearly worried that Danielle will take Shane to the end and not Dan.

6:25 PM BBT — Now the HGs are on outdoor lockdown.

8:24 PM BBT — Lockdown is over. The HGs are disappointed that there were no surprises inside.

10:00 PM BBT — Danielle is in another one of her moods. Which usually just means she wants attention. This time she's getting the attention from Dan. She says she's upset that she's on the block for the fifth time. She's even back-talking production and being despicable in general.
I'd just like to thank Danielle for giving us something to watch and me something to write about. Usually at this point we just get the HGs making T-Shirts. Thankfully for her, we've got the same kind of drama that started week one and has carried through all season.
You can catch all of these Big Brother 14 events using Flashback, the DVR-like feature of this year's Live Feeds which means it's always live, even when you missed it! Sign-up now to get the free trial to watch it all live & uncensored!
click images to see full size