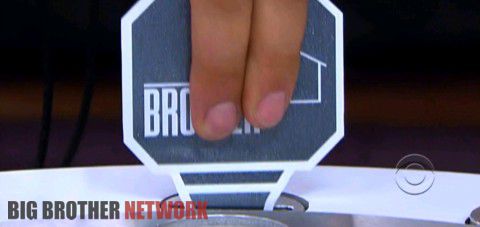 This week's nominations have arrived on Big Brother 14 and we're ready to watch as the house reacts. Just like the past few Fridays, Pandora's Box arrived today and another familiar face to the house. And again there was little impact on the game.
Now that the nomination ceremony results are in we know who is in danger and what to expect this week. Read on to find out who is on the chopping block.
Big Brother 14 Week 9 Nominations:
Late last night Dan managed to convince Ian not to nominate him but to rather put Jenn and Shane up on the block. Ian had been worried the other HGs would question why Dan nominated him but Ian didn't return the jab. Dan assured Ian they could convince Danielle and Shane that Shane's nom was just a pawn move while Jenn is the target.
As far as Pandora's Box, this time Ian probably wishes he hadn't opened it. Tempted by the promise of seeing someone who loved him, Ian went inside and found a video from Rachel Reilly. Meanwhile the other HGs received recorded messages from their loved ones. You win some, you lose some. This week Ian lost.
Do you think Ian made the right noms? Who would you have nominated?
You won't want to miss this action and you can only watch it play out on the Live Feeds so sign-up & get your Free Trial now!
The Power of Veto competition will be on Saturday, so don't forget to check in for those spoilers. Heading out this weekend? Stay connected with our free apps or join us on Facebook and Twitter for mini-updates. This season is cranking up so get ready!