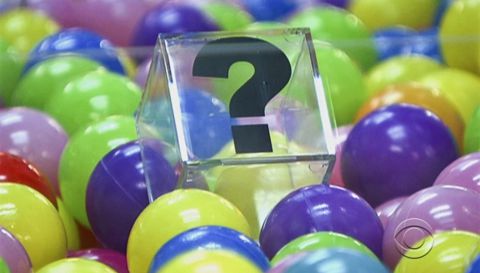 Expect the expected when it comes to Pandora's Box on Big Brother 14. We've been waiting all week for Pandora to return after first spotting the "?" cube in the crane arcade game last Friday. Earlier today, a little after 1PM BBT the Feeds cut to Trivia after we heard HGs increasingly discuss Pandora's Box and hearing construction in the backyard. Meanwhile Frank indicated he would take the risk and open the Box.
Now the Live Feeds are back (sign-up now and start watching!) and we are able to see what has happened in the house.
Big Brother Live Feed Flashback time:
August 24, 2012 @ 3:03 PM BBT on all Cams
Uncensored Live Feeds Free 3-Day Trial – Sign-up Now
Turn on your Live Feeds right now and listen in and read on to find out the details!
Frank was trapped in the HoH room while the rest of the HGs scrambled downstairs to find quarters and play the game. Ian has won some sort of special Veto power in a competition involving coins and the arcade machine. It's a golden ball from the machine. He won't be able to play in Saturday's Veto competition, but he is still eligible to be nominated. Right now, Frank is not going to nominate Ian.
Frank has told Britney and Ian that he still plans to nominate Dan and Danielle. Frank and Britney privately discussed that they'd tell Ian that if he uses "it" (whatever he won) to save Dan or Danielle that Britney would go up as a renom. Frank also told her he trusted her and Shane yet again. Shane, the guy who nom'd him twice so far, is once again trusted by Frank. Sheesh. Frank also asked Ian to confirm they're working together again. Ian confirmed. Frank is a real sucker for punishment.
Frank won $3,000 as part of the competition. He had to pick an envelope and lucked out as several of the other options were under a thousand dollars.
I'll keep updating here as we learn more, but turn on your Live Feeds right now to watch as the house reacts to today's events.
Sounds like quarters were spread around the house and each HG had a turn at finding quarters and then going at the machine to retrieve the magic ball.
Dan says they've still got a chance now that Ian has the power. Dan is thrilled that he hadn't yet ratted Ian out since he now may need Ian to help get him off the block.
Here are the scenarios they're discussing and the critical element is for Ian to not be nominated. Currently it doesn't seem like that's the case. But if Frank wanted to take this power out of the loop then he'd nominate Ian and force him to use it to save himself.
If Shane or Britney wins the Veto then they can use it to get Dan or Danielle off the block, then they get Ian to do the same to the other person to get them both off. That would still leave either Shane or Britney vulnerable. But then they'd control the votes and send home either Joe and Jenn instead. They've got a shot, but it's a narrow chance.
What do you hope to see happen in the game this weekend?

Click Here to Get the Big Brother Live Feed Free Trial