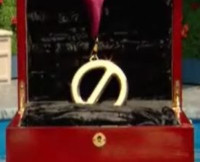 It's time for another Power of Veto ceremony in the Big Brother 14 game. This week's Veto winner will have the choice whether or not to use the Veto and then, if it's used, a renom must be announced.
We've been watching lots of drama in the house since the original nominees went up on the block on Friday night. Things haven't slowed down since then either as the nominees have fought, argued, and worked to divide the HGs. Read on to find out what happened.
Frank was this week's Veto winner which worked out nicely since he was on the block. His co-nominee was Boogie. Things didn't go as well for him.
So at today's Big Brother 14 Power of Veto ceremony Frank used the Veto to save himself. That meant Shane had to put some up in his place. Boogie & Frank were confident that it'd be Dan renom'd. Instead Shane did what we expected and renom'd Jenn. One of them will be going home on Thursday.
Right now there are some angry HGs wandering the halls. Jenn is furious, presumably since it turns out people were aware she was in the house this season. Boogie is just as angry and is calming himself in the back bedroom before he's ready to be around the other side. Frank and Ashley are with Boogie and they're confident they have 3 of the 4 votes they need for Thursday. They don't realize Ian is not in their pocket.
Sign-up for the 3-day Free Trial of Big Brother Live Feeds!
Jenn visited Shane upstairs in the HoH and passively threatened him several times. She then went downstairs to the kitchen and started talking smack to Dan. She sang to him one of her songs that she said he'd like, "you look so pretty, digging your own grave." Wow, this version of Jenn could end up being a lot more fun than the Jenn from the first five weeks!
Do you think Shane made the right choice today? What would you have done?
Get ready for plenty of campaigning in the game. You can watch along on the in-house camera video streams by checking out the Big Brother Live Feed free trial. Try it out for free and then keep it for only fifty cents a day. That's some cheap entertainment.