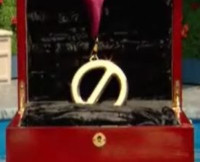 It's time for another Power of Veto ceremony in the Big Brother 14 game. This week's Veto winner will have the choice whether or not to use the Veto and then, if it's used, a renom must be announced.
We've been listening in on several conversations since late last night and the decision still seemed up in the air until very recently. Read on to find out what happened at today's Veto meeting and what it means for the rest of the week.
Since Frank is both the HoH and Veto holder he has all the power this week. Leading up to today's ceremony Frank had been heavily considering using Dan as a renom. Frank had actually been considering Dan as a nominee from the beginning of his HoH-week. After a few discussions with Boogie Frank decided it wasn't the right time, but he was sure to tell Dan others wanted him nominated.
So at today's Big Brother 14 Power of Veto ceremony Frank declined to use the Veto and kept his nominees intact. That means Wil and Joe are on the block and one of them will be going home on Thursday.
Shane spoke with Britney after the ceremony and said he had fully expected to be a renom. They both expressed gratitude that Frank stuck to his word even though they were all paranoid after just one week of their new "Silent Six" alliance.
Who will it be? Well Wil has been Frank's top target since Friday, but then last night Frank talked with Boogie about keeping him as an attack dog on the other members of the Silent Six. All the same, I'm thinking it'll be Wil who goes home next.
Do you think Frank made the right choice today? What would you have done?
Get ready for plenty of campaigning in the game. You can watch along on the in-house camera video streams by checking out the Big Brother Live Feed free trial. Try it out for free and then keep it for only fifty cents a day. That's some cheap entertainment.