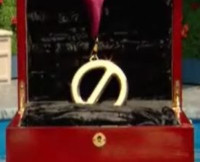 The Big Brother 14 drama continues today with the Veto competition. The stakes don't get much higher than this especially when you've got half the house hoping for a chance to renom who they see as the biggest threat in the game. That will still be up to the same person who created this scenario in the first place with his nominations last night.
I hope you've joined us on Facebook and Twitter for mini-updates through the day so you don't miss all the fun.
Read on to find out who won and what that could mean for the game this week.
Big Brother 14 Spoilers: Week 3 Veto Competition Results:
Shane won the Veto Competition.
Yep. Shane won the Veto. Again. He said he's now the biggest target over Frank with his repeat wins. No kidding. This guy is a beast. Shane says Joe is out the door.
Jump on the Live Feeds right now to watch the house react. You can check out the in-house uncensored cams with the Free Trial and then keep it for fifty cents a day. That's a cheap price for a summer of Big Brother fun.
The players in this week's PoV competition were Shane as HoH with Ashley and Joe as the nominees. Frank, Danielle, and Wil were selected the additional players. Jenn was picked as host of the Power of Veto competiton.
The next Big Brother 14 Veto ceremony is expected to be held on Monday and we'll know for sure if it's used, but don't expect it. Stay close by and we'll share those spoilers.
What do you think of the PoV Comp results? Should it be used at the ceremony?
Jump on the live feeds and enjoy the drama. Watch it all now live & uncensored.
click images to see full-size