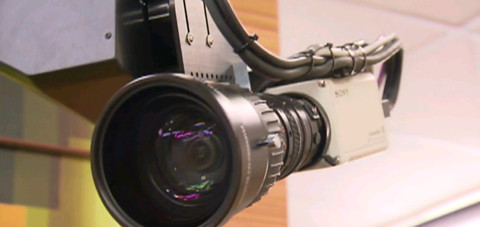 There was a big move made today in the Big Brother 14 house and we saw the backlash play out on the Live Feeds. Actually, there wash;t much of a backlash because the move has actually been masked kind of well. Props to the big moves going on in the house this week. Of course a lot can happen in the next couple days and Frank and Boogie could turn things around. In the meantime, there's plenty to catch up on in if you weren't glued to your computer yesterday. Read on to find out what we saw and heard yesterday on the Big Brother Live Feeds.
Curious about the in-house cams? Read our FAQ: What are Big Brother Live Feeds?
Big Brother 14 Live Feed Highlights – Monday, July 30, 2012:
10:24 AM BBT — Britney and Shane talking about the Veto Ceremony set for later. Britney asks if putting Frank on the block today is the right move. Shane says yes because he doesn't trust Boogie. Britney finally says something smart about the whole thing: She thinks they're doing Janelle's team's dirty work by getting Frank out. You think?

10:50 AM BBT — Janelle and Britney agree the move Shane plans to make will be good for the two of them.

11:10 AM BBT — Shane is planting the seed in Frank's head that he is thinning of using the veto and putting up someone from Boogie's team. Frank throws Ian under the bus, hoping to protect himself.

11:21 AM BBT — Feeds cut for Veto Ceremony.

12:26 PM BBT — Feeds return and Frank and Boogie are talking about what just happened at the Veto Ceremony. Shane took Ashley off the block and picked Frank as the replacement nominee.

12:30 PM BBT — Shane has Boogie and Frank convinced he made the move just to make sure everyone voted Joe out. Frank says he's confident that he has the votes to stay.

12:34 PM BBT — Boogie grilling Ian. Boogie thinks Ian said something to Britney and Shane to make them put Frank on the block. Ian is visibly upset.

1:14 PM BBT — Dan tells Boogie that Shane and Britney were discussing using the veto in front of Janelle, meaning she might be in on it and that Frank might actually be at risk.

1:26 PM BBT — HOH room gang is bad-mouthing Ian. Shane mentions Ian saying if he won Big Brother, he'd buy a $5,000 bike and give the rest of the money to his parents. They say he doesn't even care about playing the game.

3:23 PM BBT — Frank says he will nominate Wil and Ashley next week and backdoor Shane. Frank is still pretty confident, clearly.

4:30 PM BBT — Janelle and Britney talking about the game. They think Dan is playing a smart game and is poised well for the coaches entering the contest. They talk about how hard it will be to get Boogie out and how they need to lay the groundwork for Danielle being in an alliance with them. Janelle and Britney are ready to work together if (when) the coaches enter the game.

5:00 PM BBT — Danielle asks Dan for some coaching on how to handle Boogie and Frank. They're all over her trying to secure her vote. Dan tells her to stay around others they won't want to be talking game in front of. DUH.

5:23 PM BBT — Britney asks Shane if he likes Danielle for real. He says she's making him feel uncomfortable and that he was actually interested in Kara.

6:31 PM BBT — Shane asks Danielle if she knows "this is Big Brother and not Bachelor." That might be the best thing he's said or will say all season.

8:15 PM BBT — Wil tells Danielle he thinks at least one of the coaches, if not all, will be entering the game to play. Danielle is pretty convinced against that.

10:15 PM BBT — Game talk has been dead for awhile. General chit-chat lead to a long volleyball game. Janelle is in bed napping. Yes, at 10 PM.

11:45 PM BBT — Dan and Janelle act like they're not sure they'd choose to go in the game. Yeah right. They talk about working together if they do enter the game
So there you go. Shane made a bold move, but it's kind of up in the air as to who should take credit. Shane himself? Janelle? That's a tough call. And will Shane stick to the plan or will that "secret" side deal he has with Boogie and Frank resurface? Who knows. It's going to be some week. Keep an eye on the Live Feeds highlights for all the updates!
You can catch all of these Big Brother 14 events using Flashback, the DVR-like feature of this year's Live Feeds which means it's always live, even when you missed it! Sign-up now to get the free trial to watch it all live & uncensored!
click images to see full size