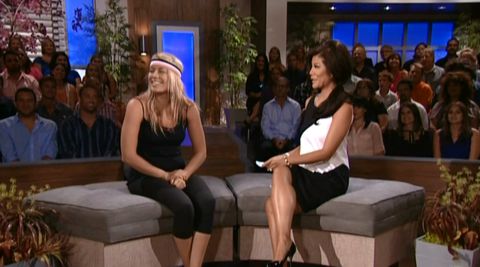 Ashley Iocco became the second victim of the amazingly awesome double eviction episode of Big Brother 14 last night. That also made her the first jury member of the season which means she holds 1/7 of the power to decide who gets the crown and half-million dollar check next month. I hope someone explains that part to her.
Ashley's eviction wasn't surprising after she made a week of bad decisions after a previous five weeks of questionable ones. Her decision to align herself with Boogie & Frank when both players were already on the block was simply not a good one. Combine that with her inability to articulate a defense or strategy in her final days and moments were a Big Brother death sentence.
As much as I was frustrated to watch her meander through the season it's hard not to smile at a HG whose strategy is to "love love" as she told us in her preseason interview. With that, I give you our eviction interview with ex-HG Ashley Iocco.
Big Brother Network (BBN): What drove your decision to side with Boogie & Frank this past week?
Ashley Iocco: I wanted to make a move…I didn't want to be categorized as a floater who didn't deserve to be there. I wanted to be a part of a team and I wasn't winning comps, so I felt like they would have my back and take me further in the game. I thought Boogie was a strong enough player that he could have somehow saved himself.
BBN: Do you regret your decision to vote out your coach, Janelle?
Ashley Iocco: I do regret it in a sense. I'd like to think she wouldn't have put me up or vote me out, but I couldn't have gotten the votes to save her anyway…so I just decided to vote with the house.
BBN: Who do you think will be in the final 2?
Ashley Iocco: I'm going to go with Frank and Britney…and btw…I have no idea who the other person was who voted me out. [Editor's note: Frank was her only supporting vote.]
We also asked Ashley if she'd make her jury vote based on game performance or previous alliances, but she couldn't decide on the spot.
Here's Ashley's preseason interview so you can compare what she said she was going to try to do this season and how things turned out. I'd say she stuck pretty well to her "love love" strategy. Good luck and thanks for the fun, Ashley!