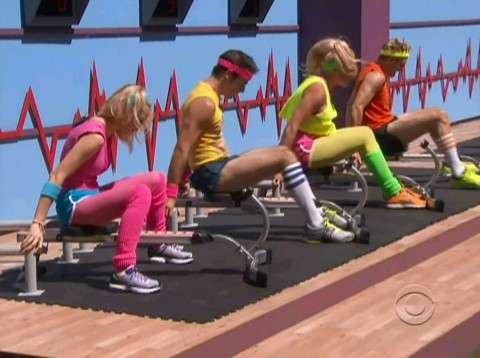 Another week in the Big Brother 14 house is under way. We've got a new HOH and some fresh nominees for eviction. But the star of this week's nomination episode is the coaches competition. That might just be one of the funniest and most suggestive moments in recent Big Brother history.
At the top of the show we pick up right after JoJo's eviction (and our last chance to hear her talk over someone — in this case, Julie) and then Shane's HOH win.
We get a quick look at CBS' attempt to force a Shane and Danielle showmance (please don't call them Shanielle, I beg you). And I'm not sure why. Shane seem to be less interested in Danielle than he was JoJo. Face it, it was going to be Kara or no one. But I'm leaning more toward no one. And that's all I'm going to say about that.
Janelle's team is not happy with Shane's win. They're all but convinced they're going on the block. Of course they still have a little hope that Shane will nominate only one of them and use the other nomination for Frank. But little do they, or anyone else but Boogie, know Frank and Shane kind of have a side deal going on.
Speaking of no one knowing of the secret alliance, we next get Britney and Dan pushing for a Frank nomination. Britney thinks it only makes sense for someone from both Janelle's and Boogie's teams go up on the block. Dan agrees. Shane is fumbling around for an excuse as to why he doesn't want to put Frank up but he can't find one. And even though Britney and Dan disagree, no one really questions why he won't be putting Frank up.
The next morning, Joe is preparing Shane his HOH breakfast, hoping to suck up and stay off the block. But rumor has it that Joe didn't wash his hands after using the bathroom and before preparing Shane's food. So Joe kind of gets the last laugh.
Shane gets a little more pressure to nominate Frank. This time it's from Ashley. She wants to be the swing vote or something. Little of what she says registers with me because she never really has anything to say.
And now for my favorite part of the episode, the coaches comp. This week the same thing is on the line. The winning coach can either trade a player or save one of their players. This week's competition is called "Feel The Burn" and the task includes the coaches doing reps on some really ridiculous and suggestive work out machines. To say the movements they have to do are slightly edgy is putting it mildly. The fact that they were allowed to do this competition before 10 pm is almost surprising.
Britney is out in round one, but she has to choose a locker for a prize or punishment. She picks a sock that says Have-Not. She has to pick two player to be HNs for the week. Ian volunteers again. So she picks him. She gives the other spot to Joe.
Out next is Boogie. He picks a locker containing $10,000. He has to divide it three ways. He picks the $6,000, gives Ian $3,000 and Jen $1,000. Ian gets a little teary and at first I'm like "OMG WHYYYYY" but then he reminds me that he's a student and I remember how $50 made me feel rich when I was a student. So I totally get it.
Janelle wins the final round, so Dan gets to pick his locker. He gets a sushi party (that lead to some wild times in the Big Brother house) and he gets to pick five others to enjoy the party. He picks, the coaches, Shane and Danielle.
Janelle, as the winner, gets to trade a player or save a player. She chooses to save Wil. Smart move, Janelle. He was Shane's #1 target.
So now we've got some last-minute scrambling on people trying to stay off the block and Shane and Britney trying to figure  out who to put up. Janelle and Joe plead their case. Boogie pleads his. Britney is making the most sense with her idea of putting Frank and Joe up but she's unaware of the secret alliance. Then we've got production calling Shane to the DR to make his noms just to screw with his mind. It was a pretty tense few moments. At this point Shane is likely to come out and nominate himself and Jen for eviction.
At the ceremony, everyone's keys are pulled expect for Joe's and Ashley's. It's all team Janelle this week. Shane says he wanted Janelle to feel how it is to have two of her players against each other on the block, but that made no sense since her players have never nominated anyone. But OK. Shane's a good physical player, but that's where it ends with him.
Who do you think will be going home this week? Can't wait until Wednesday to find out the POV results? You don't have to. Find those out here if you wish.