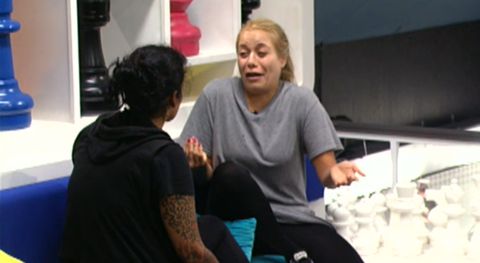 Team Boogie has been working frantically this week to secure votes to keep Froogie alive. First they tried the "I hate you! You're terrible! I'm coming after you!" approach. That went about as well as you'd imagine. Then they decided to play nice and see if they could court some votes in a more gentle manner. That worked out just about as well as the first method. Maybe they should have thought of that before the angry plan.
Believing they had Ian's vote in the bag and then securing Ashley's support the last cog they needed was Joe. After listening to their pleas the night before it was finally time for Joe to reveal his vote. Flashback to 11:40PM BBT last night to watch on the Live Feeds as Joe breaks the news to Frank. Just as we expected, Joe tells Frank that he will not vote to keep Boogie. Frank pushes Joe for an hour to change his mind, but to no avail.
Boogie has been asleep for awhile at this point, so that leaves Frank, Ashley, and Ian to commiserate with one another downstairs while the rest of the house gathers in the HoH room. Flashback to 1:10AM BBT to watch as they listen in from below as the HGs upstairs loudly discuss Boogie's pending eviction. Frank decides he's had enough of that and marches upstairs. He enters the HoH room and makes it known that they can hear them and he doesn't want them kicking his boy around while he's already down. The room is stunned by Frank's visit that ends as quickly as it began.
Now for the real drama. Sign-up to watch on the Live Feeds as Ashley attempts to smooth things out with Jenn. She heads upstairs at 1:30AM BBT and asks to speak with Jenn. Jenn's reponse? "You can suck it, Ashley." A few HGs offer to leave and give them privacy, but Ashley declines. Jenn continues to lay in to Ashley for voting against her especially since Ashley had been telling others she was voting to keep her. Things get pretty rough and heated. It finally gets to the point where Ashley can't take it and she starts to cry. Jenn takes her outside the HoH room to speak in private.
Sitting at the chess table, Ashley continues to bawl to Jenn and explain how she has no one in the game and she was just trying to find something, anything that could work for her for a change. Meanwhile, back in the HoH room Dan tells everyone not to "buy" what Ashley is selling. Shane says Ashley must be an actress with the way she's acting.
We're still watching as "Wacky Wednesday" (as the HGs like to call it) plays out and it's already been interesting. Boogie has announced that he knows he's going home and wants to do it with class. Could he be trying to surprise attack the other side? We shall see. Be sure to sign-up for the Live Feeds' free trial and watch what happens next.