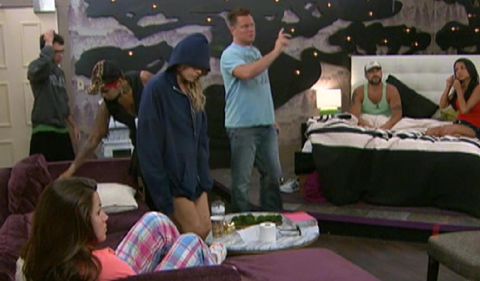 The Big Brother 14 Newbies are tired of playing the game for their Coaches and things boiled over today in the Big Brother house.
Yesterday Britney told Janelle she told was worried the Newbies would turn against them if the Vets revealed they were potentially come in to the game. She was right. After revealing this theory to Willie he took it all over the house which lead to an argument between him and Britney.
Flashback on the Live Feeds (No Feeds? Get the Free Trial.) to 10:00AM BBT to find Britney chastising Willie for revealing to Boogie this theory about the returning Vets coming in to the game. Britney says she wished she had never told him anything.
Shortly after that Willie starts suggesting the Newbies call a house meeting without the Coaches. Joe wraps up a meeting with Janelle, agrees that Willie is working with Frank to keep him, and decides to press for Willie's house meeting. The Newbies gather upstairs in the HoH room and things get rolling. Flashback to 10:55AM BBT to watch.

Click Here to Get the Big Brother Live Feed Free Trial
Willie kicks things off by saying they (the Newbies) need to revolt and reject the Coaches. He's tired of playing their game. The Newbies recognize the Coaches are pushing their own Big Brother game agendas and they're done with it.
The Newbies agree that they want to play their own game from now on and no more dealing things out through the coaches. They don't like having to backup deals someone else made on their behalf.
Joe says Willie is playing too fast. Willie strongly disagrees. Joe reminds Willie that he doesn't know for certain that the Vets will be playing the game like he suspects. Joe Arvin, the surprising voice of reason in Big Brother 14 this afternoon.
The house meeting breaks and moments after Frank expresses his concern to Willie that the other HGs might no longer feel the need to weaken Dan as a result. Willie assures him that's not the case. Moments later? JoJo is talking privately with Kara and providing support. We shall see. Lots more talk going on now as the Newbies begin again to mix with the Coaches.
click images to see full-size