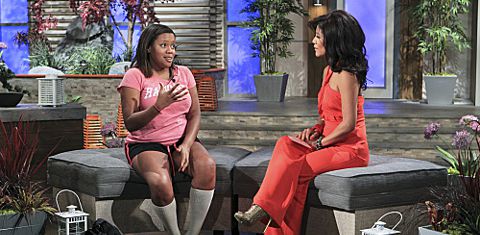 After just eight hours in the Big Brother 14 house newbie HG Jodi Rollins was eliminated. This came as a big disappointment to me as I've publicly stated she was a top favorite of mine for this season. Jodi is a true Big Brother superfan which made her elimination all that much more difficult to watch during the premiere. All the same, someone has to go and this week it was Jodi. We had the chance to speak with her today about her experience less than two weeks since our first interview.
Despite her eviction coming at the hands of her mentor, Dan, Jodi still says she was happy with being part of Dan's team and would have picked him in a role reversal. "I didn't like how it went down, how I was chosen last, but we had made a connection, so I thought. I thought, 'this guy believes in me.'" She admits being surprised by the last-pick scenario but thought that would put her in the non-intimidating category which would give her some cover. Obviously it didn't turn out that way.
When asked whether the insanely thorough application-to-auditioning-to-finalists-to-HG process was worth it for her short lived Big Brother 14 experience, Jodi gave a mixed response. She indicated she might rethink the effort had she known she'd be gone in eight hours, yes just eight hours in the game. However, Jodi continued, "I rolled the dice and lost bigger than any other Big Brother HG has in the show's history. What are you going to do? If you don't try things in life, you'll never succeed."
As far as the Mentors twist, Jodi felt it was "unnecessary" and the newbies were no longer in control of their own game. "When the coaches came in, it felt like remedial Big Brother. You had to wait for somebody to tell you what to do. Someone else was in charge of your fate." Had it been a chance to compete against them, it would have been difficult, she admitted. "It changed the entire energy when they came in, and not for the better."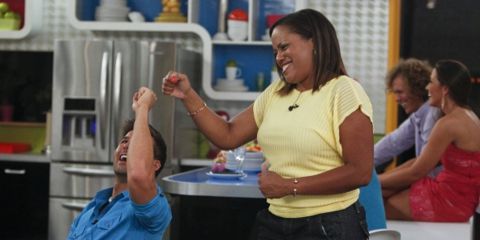 Who was the least inviting HG? Newbie Joe Arvin. "The most surprising person that I thought I'd connect with that I didn't was Joe… I tried to talk with him and he blew me off." Jodi thought their age, being the two oldest HGs in the game, would give them a connection, but it seems Joe had no interest in making friends.
While Jodi couldn't reveal her current location she did indicate she'd consider an immediate opportunity to return to the game, but if that call came later in the season it'd be difficult to accept. As such, I'd say there isn't a chance we'll be seeing early evicted HGs return to the game like we had last season.
How are Dan's chances of pulling out the win this season? Not so good, said Jodi, and that rests on his choices. Though as Big Brother has shown us in the past, "weaker players go riding along for awhile. So they might be there for awhile," Jodi explained. Who has the strongest team, in her opinion? Boogie and Britney. I'd have to agree with Jodi on that one.
It was tough to tell how much time Jodi had to defend her Big Brother 14 life to Dan when we watched it last night. Jodi revealed there was just thirty minutes between the competition ending and her eviction from the house. Hardly enough time to get more than a few moments with her judge, jury, and executioner, Dan. "I did not feel like I got through to him," she said. Unfortunately Jodi was right and saw her elimination coming a mile away.
Jodi may have only lasted one night in the Big Brother game, but she definitely made fans. They can find her on Twitter under @JodisBox. Congratulations to Jodi on even having the chance to be part of this season, but also our condolences on her brief stint as a HG. In my opinion, Jodi was definitely sent home far too soon and we're sorry we won't see more of her on Big Brother 14. What did you think of her eviction?