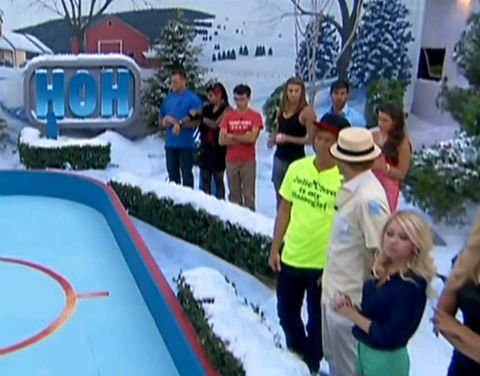 The moments like the past two HOH competitions are what makes the Big Brother game such a great one. For the past two weeks, the Big Brother 14 has seen a shift in power and nothing in the game is sweeter, if you ask me. Before we get to all that, let's back up to the beginning.
At the top of the episode, we pick up right after Shane removed himself from the block and Frank put Danielle up in his place. Danielle is feeling down and out so Dan tries his best to explain his coaching tactic to her. He wash't abandoning her, he was trying to make her fight her own battle. He apologizes for that.
For the rest of the live show filler, we get a flirtation montage of Shane and JoJo with poor Ian in the middle of it. We also get backlash from that in the form of Danielle jealousy. Fun. Not really.
Oh, and we get yet another rehashing of Willie's blowup. Over it. Then Julie has her weekly talk with the house guests. It's just minor chit-chat, or maybe it was some massive interviews and I was too distracted rolling my eyes at Joe wearing his chef coat on the live episode.
Dr. Will shows up for a little rundown of the coaches' game. Of course he thinks Boogie is playing a fantastic game — even if it's without him for the first time. He thinks the other coaches aren't playing so well. And that's kind of true. He thinks Janelle is a great competitor but isn't good with strategy. And Dan and Britney are just kind of meh, basically.
Julie talks to Frank in the weekly HOH interview. Frank makes us all cringe by calling her "Jules," and basically dodges all of her questions. Who knew Frank was such a diplomat.
The live votes start next and JoJo or Danielle will be going home. Here's how the votes play out:
Wil: JoJo ("Little Miss Hypocrite")
Joe: JoJo ("JoJo Dancer"? For the second week Joe cracks while trying to be clever during the vote)
Ashley: JoJo
Shane: Danielle
Ian: JoJo
Jenn: JoJo
JoJo is evicted from the Big Brother 14 house by a vote of 5-1.
The HOH competition is up next, and since they're pressed for time, Julie lets them know to speed things up. The game is called "On Thin Ice" which has nothing to do with anything except for it's kind of a hockey game. The HG who hits their puck into the slot with the highest score wins HOH. Here are the scores, in order of play:
Ashley: 4
Joe: 3 (Joe's out)
Jenn: 0 (does the person even exist or is she only in my imagination?)
Ian: 9 (Ian takes the lead from Ashley)
Wil: 2 (Wil is out)
Shane: 20 (Shane takes the lead)
Danielle: 12 (doesn't beat Shane)
Shane wins Head of Household, and the shift of power changes. Just like Frank last week, he went from being on the block to Head of Household. The only difference is Shane also has two Veto wins under his belt.
Julie announces what we all knew was coming. The coaches have the chance to enter the game and play for real. That is IF America vote  yes to the coaches twist. And we all know they will vote yes? Should they? That's subjective. I'd say no, but that's just me.