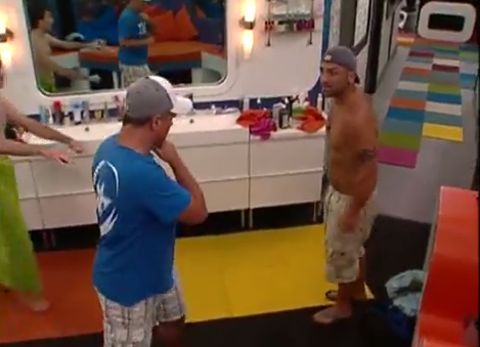 It's probably a safe bet nearly anyone who watches Big Brother 14 already knows that Willie Hantz was expelled from the Big Brother house on Friday. But we got to see how it all played out on Sunday night's episode since we missed parts when the Live Feeds were shut down because of it all.
Before we get to the Willie stuff, we'll back up and recap chronologically. The start of the episode picks up right after Kara's eviction and Frank winning Head of Household. Janelle explains why it's better for Frank to be in the house and why her team helped save him. It's simple, he and Willie can just take each other out of the game.
Speaking of Willie, he knows that Frank winning HOH was the absolute worst thing that could have happened to his game. He knows that his nomination for eviction lies ahead but he vows to not give up and fight his way to winning the veto.
At Frank's HOH room reveal, Willie joins in but he is clearly very unhappy. He's trying to be civil, but you can just see him nearing his boiling point on the inside.
Britney decides she's finally tired of defending Willie and tells him how it is. She points out all the problems he's caused and in probably her best coaching move so far, she says oh his gameplay "I'm here to tell you you're doing a horrible job." Sure she might not be the best coach, but that's what Willie needs to hear.
CBS throws in a pointless Danielle and Shane montage. One that exaggerates a possible blossoming showmance. I don't think that's going to happen (nor do I care if it does or doesn't) but OK. We also get a look at Ian and Ashley's "slop date" even though that happened   last week on the Live Feeds (but seems like weeks ago).
It's time for the coaches' competition. It's a silly 90s rap/urban theme and the coaches are dressed in MC Hammer pants. The object of the goal is to make it back and forth across a balance beam while trying to be the first person to stack all their "phat stacks" of money up. If you or your cash hits the ground, you're out.
Dan plans to throw it, so the cameras don't even show him playing the game. Britney is off to a fast and serious lead, but she drops some money, putting her out of the game first. Boogie finishes the game first, but before he hits his buzzer, he steps off for his typical obnoxious celebration dance. His ego cost him the competition. Unless he decided to throw it.
So Janelle wins. And she decides to save Ashley (instead of Wil?) and decides to pick Willie, JoJo, Shane and Ian as have-nots. In typical Janelle fashion she says "I'm definitely picking Willie!" It's kind of a b-move to put Shane on slop for a second week, but that's how the game goes sometimes.
When the HGs enter the house, they find that America voted for the have-nots to be able to enjoy pudding and pork rinds in addition to their slop. I could handle those two things. That was actually pretty generous, America.
And so now Willie's boiling point is nearly reached its limit.
Willie calls for Shane and JoJo to meet with him in the bedrooms. Shane wisely declines, but JoJo heads off behind me. Britney stops them and tells JoJo not to go. She then tells JoJo to distance herself from Willie before she's found guilty by association. Britney and Willie continue to argue and he heads upstairs to defend JoJo and Britney. That was actually a nice move. He tells everyone up in the HOH room to leave the others alone because it's him they want. He then says he plans to get evicted before the actual next eviction.
Back down stairs, Willie is calling everyone in the house "pussies" and Joe reacts. So Willie reacts. He runs to the bathroom being Joe and gets in his face and they both have their chests out like a couple of fighting cocks and Willie KIND OF headbutts Joe. It's more like a shove using one's head. I'm not defending Willie here, I just don't really see where that was a headbutt.
Production comes on and tells Willie to head to the back bedroom and asks Joe not to follow him. As he's heading out Janelle instigates things so he throws some pork rinds at her and calls her a bitch. Willie is soon called to the Diary Room and he's shown being escorted out of the diary room.
A little later, show producer Allison Grodner calls the house guests into the living room and tells them that as the know, "violence is not tolerated in the Big Brother" house and that Willie has been removed from the game. She says the game will continue as normal.
And then the episode ends. We won't get to see the nominations (nom spoilers) until Wednesday night along with the veto competition (veto spoilers) and veto ceremony.
What did you think of the Willie drama? Do you think he deserved to be removed from the house? Do you think we saw everything that went down?