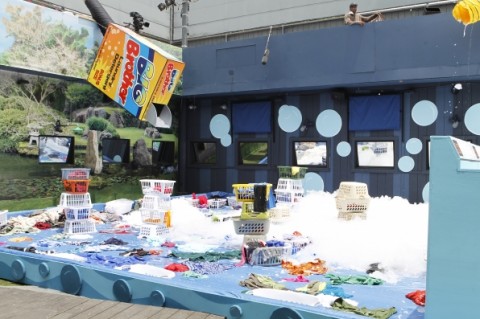 Wednesday night's episode of Big Brother 14 proved one thing and one thing only: No matter what CBS wants you to think, this season of Big Brother is again all about the veterans.
About 85 percent of the episode was devoted to footage of Janelle, Dan, Britney and Boogie. Whether or not this is a good idea or a bad idea is still beyond me. On one hand it's good for past fans to see a lot of their favorite former house guests. But on the other it's bad because we're not getting to know the new house guests. I'm not sure this episode included more than one shot of Jenn, for example.
But anyway, on to the recap. At the start of the show, we pick up where last week left off. Head of Household Willie has just nominated Frank and Kara for eviction. The news was a blow to Frank as he and Willie had previously struck a deal outside their own coaches and teams.
Boogie isn't happy with Frank's nomination either because Willie led him to believe he wouldn't be putting Frank up. Dan wasn't led astray by any promises from Willie, but he's still planning to do everything he can to keep Kara in the game. If she goes, he's down to only one player and it's still Week 1 of the game.
Frank catches up with Willie later to ask what happened with their deal. Willie felt pressure from his coach and he also wasn't happy with Boogie's game methods and so Frank was a casualty because he's on Boogie's team. WIllie says he doesn't want Frank to go and at this time they restrike a deal. And that's just one of about a trillion times someone in the Big Brother house flip-flopped this week. If you're not keeping up with the Live Feeds, check out some of the highlights and you'll see.
The coaches have their own game a drama brewing. Boogie is onto Janelle and Britney's alliance and so he's asked Dan to work together. Dan never really says a direct yes, but it's implied. Then Boogie talks to Britney about how easy it would be to take Dan out. Britney fills Janelle in on it and says she's reminded of what a snake Boogie is and that he has no loyalties to anyone.
It's Veto time. Earlier Danilelle, Shane and Wil were picked to join Willie, Kara and Frank in the competition. The game is called Loose Change and the players have to search thorough a lot of suds for some coins. The first player to find $1.30 in coins wins the POV. Danielle, Wil, Kara and Frank all suck at the game so it's basically between Shane and Willie. Shane wins the veto.
Per usual, the nominees both have their time with the veto holder. Kara and Frank both plead their cases to Shane. But this season the veto holder is going to have some extra nagging voices in their ears. The coaches. Boogie and Dan both talk to Shane about saving their players as well. Shane considers all his options.
At the veto ceremony, Shane busts out the puka shell necklace from his 1999 bag and delivers his decision. He has decided not to use the veto this week. So it's either going to be Frank or Kara. And who it will be is anyone's guess. As I said earlier, the week has been filled with flip-flopping and extreme drama.
Check back tomorrow for the eviction results and possibly the new head of household results.