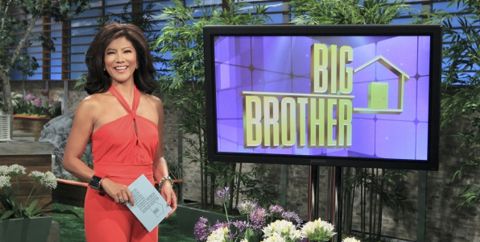 Get ready for a huge episode of Big Brother 14 tonight when Julie Chen returns to deliver the results of the latest nominations and the Veto competition. After that we should get to watch a live Veto ceremony and the next eviction. It won't stop there though.
Update: Tonight's show is going to be wild. I thought only one HG would be blindsided, now it seems there will be two! Exec Producer Allison Grodner tweeted earlier:
twitter-tweet tw-align-center">

IMPORTANT…DO NOT MISS #BB14 tonight! LIVE veto ceremony might be biggest blindside of summer! #mist NO DVR…@cbsbigbrother

— allison grodner (@agrodner22) September 13, 2012
Tonight will kick off the 3-part final Head of Household competition. The winner of each of the first two rounds will face off in the third round. The winner of the third round will select who to take to the Final 2. Round 1 is expected to be an endurance competition and you'll be able to watch it play out after tonight's east coast broadcast ends. Be sure to have your Live Feeds ready or grab the 3-Day Free Trial right now so you can watch along. Round 2 should be a physical competition. Round 3 is typically Q&A with questions regarding what the various jury members are thinking.
Click Here to Get the Big Brother Live Feed Free Trial
Speaking of the Jury House, we'll finally get a glimpse of the drama there and from the commercial we've seen there should be plenty of drama to go around. Hint: Frank and Britney aren't getting along, but did we really expect him to be happy to be there?
I've already made my prediction for tonight's eviction and even detailed out how and why that HG will be sent off to Jury. According to our eviction poll, I'm not very convincing.
Don't miss tonight's show because this should be awesome to watch play out live and then on the Live Feeds as we watch the first part of the final HoH competition. Join us on Facebook and Twitter to get all the updates throughout tonight's live show.