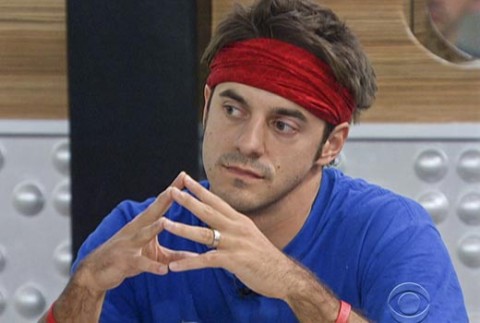 If you missed Big Brother 14 last night, then you need to drop what you're doing, turn off your phone and find a way to watch it.
Dan's Big Brother "funeral" was nothing compared to what he pulled off on Thursday night's live eviction episode. But first (said like Julie Chen), let's step back a second and start from the episode's beginning.
The show picked up right after Danielle won Wednesday night's Head of Household. We get to hear Dan telling her to nominate him and Ian for eviction. Huh? Yes. Dan has some more magic up his sleeve, he lets us know. So Danielle once again follows Dan's orders, even down to his suggestion for a nomination speech. Only she throws in a couple improper uses of "backdooring."
Next up we finally get a look at life in the jury house. We get to look in Ashley blowing bubbles, then Britney shows up and she and Ashley start working on dream boards or some sort of garbage. Then they predict Frank will show up next and he does. Frank and Britney get into a spat because Britney finally tells Frank that he isn't the king of honest gameplay. She reminded him that he lied like everyone else and lying is a part of the game.
Then Joe shows up and Britney and Frank spat some more and that's that. No sign of Jenn yet. Maybe she didn't know she was supposed to go to the jury house. I mean, you know, since she knows basically nothing about the game.
OK, time to go back to the Big Brother house. Up next the final four play the veto. And this, as we know, is the most important veto of the summer. It's a mixture of a puzzle and memory quiz. It feels like it was designed for Ian to win, but Ian does not do so well. Danielle wins yet again, meaning she has all the power.
Ian seems pretty bummed at this point and isn't feeling very confident. Then Dan starts talking to Danielle. It goes something like this:
Dan: Hey Danielle.
Danielle: Haaayyyaayy Daaaaynn.
Dan: So, you want to use the veto on me?
Danielle: Whhhyyyy Daaaaayn?
Dan: Because.
Danielle: Okkkaaaaay Daaaayn. You promise to not vote out Shaaayyyne?
Dan: Yes.
Done deal.
So then Danielle has to run the idea by Shane so he knows it's only so Dan is the one that gets Ian's blood on his hands. That conversation goes like this:
Danielle: Haaaayaaay Shaaaayne.
Shane: Oh hi.
Danielle: So I'm gonna use the veto on Daaaaayaaan.
Shane: OK. Right. Yes. For sure. I totally understand. Right right yeah. Pawn. Yes.
Danielle: Makeout with maaaaaayy!!!!!
So that's that. At the live Veto Ceremony, Danielle uses the veto on Dan. Dan takes the floor to decide who he is going to evict and he says some creepy coach-y things and says "I vote to evict Shane." And Danielle goes a little something like this: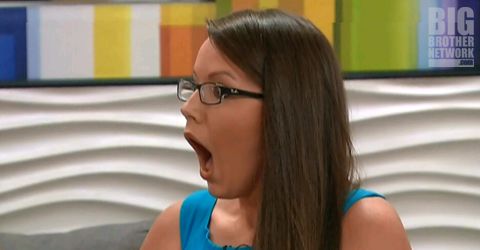 And that face will go down in Big Brother history. Danielle is so shocked and so mad that we get a longer-than-usual look at what's going on inside the house after Shane exits to see Julie.
Speaking of Shane, he barely said goodbye to anyone and actually pushed Dan out of the way when Dan approached him before walking out the door. When Shane talked with Julie he was in such shock that he wasn't even sure what Dan said to him before he left. It was almost pitiful enough to make me feel sorry for Shane and Danielle, but I'm not turning soft suddenly. Not after a season of watching those two and their "nomance."
Big Brother producers decide to forgo starting part 1 of the final HoH competition for Danielle's reaction to what just happened. If you want to find out how that endurance competition played out on the Live Feeds, check out the spoilers now.