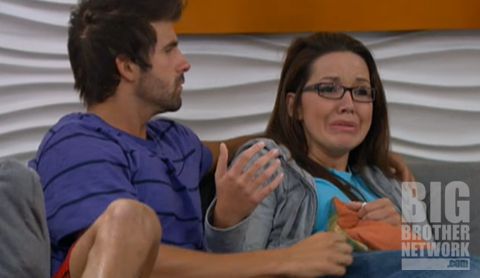 On Wednesday night's Big Brother 14, we saw an epic move play out that the past few seasons have been lacking. And of course it was all from the only player left in the house who has already won this game before.
Before we get into the juicy stuff, let's back up. The episode picks up right after Sunday's when we saw Head of Household put his No. 1 target Dan and his closest ally Danielle up for eviction.
A lot of different plans fizzled out throughout the week and one was for Britney or Shane to win the veto and use it to take Dan or Danielle off the block and have Ian use his veto to take the other, thus securing the Quack Pack's safety.
That plan came to an end when Jenn won the Power of Veto playing the Draw Something Big Brother art gallery game. Along with the veto, Jenn walked away with her clothes burned and slop for the rest of the summer. Britney ended up shackled to Danielle and Dan got some time in solitary confinement. Frank ended up in a carrot suit, 24 hours of chum showers and benched in the next eligible HoH contest. That means Frank is out of the next to HoH competitions.
Frank would have won the veto, but like most of the rest of the season, Frank made an illegal move and was finally disqualified.
Dan heads off to solitary confinement, which he uses to his benefit. While there, he trails off into some Jedi mindfreak territory and hatches a plan to save himself this week.
When Dan is released, he starts on Round 1 of his plan. He gathers the HGs for his Big Brother funeral. During this time, he goes around the room, saying nice things about all the others. He's crying. Britney's crying. Even Shane is crying. Oh, and Danielle is crying too, but that's nothing new.
When Dan gets to Danielle he has nothing nice to say. In fact he says that he picked her for his team thinking that she was going to be his next Memphis, but she has proven him wrong. He tells her that she knows what she did and that she is dead to him in this game. Her jaw drops, along with all the others in the house.
While they're busy scratching their heads and comforting Danielle, Dan and Frank head upstairs so Dan can move on to Round 2 of his plan.
Dan tells Frank everything that has happened involving the Quack Pack, sells out Ian and proposes a deal to Frank. He wants him to get Jenn to use the veto on him, put Britney up in his place, vote her out and go to the final two with Frank.
It takes no actual convincing because Frank really has no other options. All Frank has to do is shake Dan's hand and talk to Jenn.
Much like Frank, Jenn's easy to convince, but for different reasons. First of all, she knows basically nothing about the game and secondly, she wants to make at least some sort of move this summer that might make her seem less pointless.
So Jenn's in. At the veto ceremony, Ian does not use his veto and Jenn does. Jenn takes Dan off the block and Frank puts Britney in his place. So Danielle or Britney will be entering the jury house on Thursday night.
What did you think of Dan's plan and the outcome of it all? Who do you want to see evicted Thursday night?