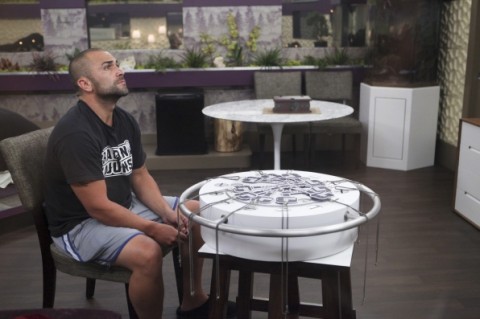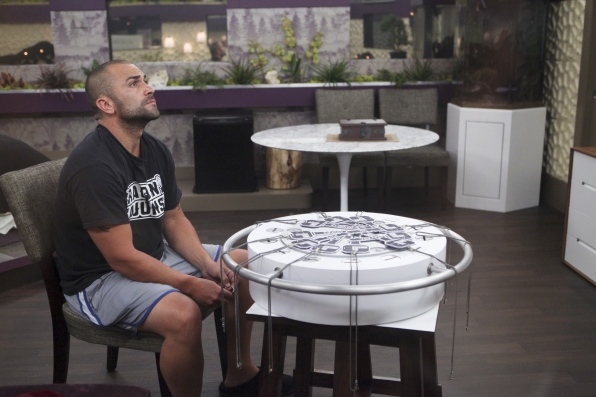 It's only the second episode of the season of Big Brother 14 and the game is in full swing. Sunday night's episode was over as soon as it started and it was packed with excitement, hilarity and the beginning of some major drama.
The episode opened with an amped up Big Brother theme song and it was interesting to see that the coaches' photos were mixed in with the house guests. Could this be some foreshadowing? There's sure been plenty of speculation already on whether or not the coaches will enter the game at a later date. But we'll save that for later when/if its relevant.
The episode picks up right after Dan was forced to evict Jodi from the house (after JUST six hours). The first thing we see back in the house is the beginnings of some alliance. Boogie and Dan are talking and Boogie wants to work with Dan. Dan seems a bit guarded by an immediate alliance, but Dan respects Boogie a lot, so I think them working together is a safe bet (for now — everything in Big Brother is for now).
Meanwhile Janelle and Britney are making their own pact. Janelle notes that she and Britney were both played by men in their previous seasons, so she wants to play up the girl power angle with her a Brit and their teams in a solid alliance. Sounds like the side I'd rather be on, despite the fact that Boogie and Dan have both won Big Brother. We've already seen Dan make three horrible moves on the first night when he picked Danille, Jodi and Kara for his team. And Boogie isn't playing with Dr. Will this season. But who knows. Anything can happen.
Upstairs, we get a look at Willie's HOH room and find out Britney gets to stay in the Coach's Sweet, formerly known as Pandora's Box. So that makes the second time Brit has been in that room, only this time there's no Jesse.
Before we get to more gameplay, here are some random highlights of the episode:
Willie, Janelle, Britney and Ashley are camped out in the HOH room late one night watching Ian on the HOH spy cam. Ian is roaming around the house, on his tippy toes, displaying some odd behavior. It's actually kind of hilarious, but if you're that odd and around the wrong kind of people, it could put a target on your back. And that's just what happens.
Ian and Dan had suspicions on the first night that Willie might be related to Survivors' Russell Hantz. Willie lets the cat out of the bag to Britney, Janelle, JoJo and Shane. And even though it didn't show this part on the episode, the rest of the house knows this now.
Willie goes rogue and forms a side alliance with Frank. Boogie is pleased with Frank's work and they both feel pretty secure for their team this week.
Back to business. Julie calls everyone into the living room and she reveals that the coaches will have their own competitions this season. They'll compete against each other and the winner will have the chance to pick one of their players for a week of safety. That means they can't be nominated or evicted. This ads an actual competition to Sunday nights, which is a good thing.
Per usual Big Brother silliness, the game has a theme and it's tacky. It's a day at the races and the coaches have to wear a costume that looks like they're riding stuffed horses. And they have to race around a soaped up track. The challenge will be done in three rounds. In Round One it's Boogie vs. Britney. Boogie wins. Round 2 is Dan vs. Janelle. Dan decides to throw the competition because he knows if he saves one of this players, the other will definitely go up. So Janelle wins. Round there is Janelle vs. Boogie for the win. Janelle loses her stride from her seasons and loses to Boogie.
Boogie chooses Ian for safety. Which was a smart move since Ian has pretty much annoyed or creeped everyone out in the house.
In a fun move, the coaches each have to pick a player from their teams to be have-nots for the week. Britney goes with Shane, Dan picks Danielle. Janelle gives it to Ashely and Boogie picks Ian. And Ian couldn't be happier. He's been wanting to eat slop since he was 10-years-old, he said. And that's one of the first things he does when he goes back in the house.
We get to see the worst have-not room ever. It's so bad that two of the have-nots have already been treated for back injuries do to those horrible beds. Expect them to rethink the beds before someone is seriously out of the game because of it.
It's time for nominations. Somewhere along the way, Willie decided his side alliance with Frank was null and went with Janelle and Britney's idea to nominate him. The other person put up for eviction was Kara. So at this point it's either Frank or Kara.
If you can't wait until Wednesday to find out who won the Power of Veto and if the nominations were effected because of it, check out the Big Brother Network spoilers.