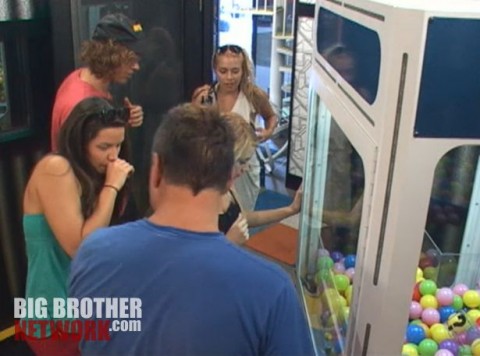 Big Brother 14 alliances sure don't last long. In fact it took about a week and a day for the Silent Six to start to crack.
On Sunday night's Big Brother, we saw how the game played out after Wil's eviction and up to the Week 6 nomination ceremony.
The episode picked up right after Wil's colorful elimination and during the Head of Household competition. The HGs were in the middle of walking up and down the slippery slope, filling up bowls one half-cup at a time.
Boogie is feeling very good about the Silent Six alliance since he and Frank stuck to their word and sent a non-member out this week. Boogie is feeling so confident, he's not working on filling up the bowl that says "HoH" or even the one that says "Safety." He's going for the one that says "$10,000." And he's the only one.
Frank isn't too happy that Boogie isn't going for HoH to at least insure their safety this week. But he's not too concerned because at the moment, Shane and Danielle are in the lead for HoH and they're in the alliance.
Dan and Britney are both going for safety because Dan doesn't really trust anyone ever and Britney would rather be safe this week and still get the chance to play in next week's HoH. Britney wins the safety, so Dan switches to the HoH bowl.
Boogie secures the $10,000 and the HoH is now between Shane, Danielle and Dan. Shane pulls out yet another win and now has to start figuring out who to nominate. Frank says in the Diary Room that he feels good that Shane won HoH because of the Silent Six. He says he's safe for another week. Boogie feels the same way.
In basically no time, Britney is throwing around Boogie and Frank's names because Frank wanted to blindside Dan last week. And when Ian fulfills his duties to his Quack Pack alliance and tells Britney that Boogie seems to be coming for her and Shane, she starts to panic.
The Quack Pack (I feel really stupid typing that) has a meeting and Britney, Ian, Shane, Danielle and Dan all agree that Boogie and Frank have to go up just in insure at least one of them goes home this week.
While Shane takes it all in, we get a montage of Joe and his tall tales. Some of the things he says are pretty ridiculous and I imagine that has a little to do with why he was cast.
We also get another Ian and Ashley date. He makes her a pizza and they sit awkwardly at the table eating. It turned out nothing like her steamy date with Frank.
A little before nominations, the HGs find some rubber balls leading to the arcade room and in the claw game they find a see-through cube with a question mark on it. Everyone starts freaking out and trying to play the game but nothing happens. And that's all we hear about on this episode. So expect something to go down inside the house between now and Wednesday because if we got that hint, then something will be revealed surely by Wednesday.
It's nomination time and Shane decides to make the move and nominates Frank and Boogie. Neither are happy, of course, and neither are ready to give up. The Silent Six has been destroyed and it looks like at one of them will go home. Unless something crazy happens.
If you can't wait to find out what happened in the Veto competition, check out the spoilers. And if you want to see Boogie and Frank's reaction to being nominated ahead of Wednesday night, we've got that too.