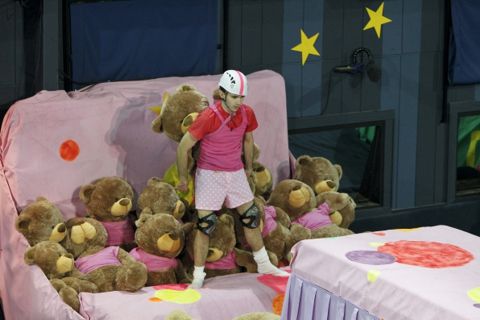 Big Brother 14 made its long-awaited return tonight, and I must say, it was well worth the wait.
We got to meet 12 new house guests, find out (like we didn't already know) who the four returning players are and what game they'll be playing, and see the crowning of the first Head of Household. Oh yeah, and we also saw the first eviction of the season. That was a fast and furious one-hour!
At the start of the show, we get the usual Julie Chen seasonal intro and the house explanation (I wonder if they re-record that voiceover every year or just play the one from like seven seasons ago). Then we get to see the 12 new HGs getting their keys… wait, their invitations to the show. Yes, they didn't get keys because they're sending someone home right away. I think they just forgot to have the keys made. Ha.
The 12 HGs assemble outside the house as always and Julie sends them in in three groups. Entering the house first was Ashley, Wil, Frank and Jodi. The next batch to go in the house are Shane, Jen, Ian and Danielle. That leaves Willie, Joe, Kara and JoJo to enter the house last.
Right away we get further proof that Ashley is completely bats*** cray cay and that Ian is a genius. It took the guy all of .5 seconds to be 99 percent sure Willie is Russell Hantz from Survivor's brother. Not much else to note from the usual meet and greet/champagne toasts. So let's skip to Julie delivering the news. She tells the group that four epic players are returning and they all look like they're ready to charge out of there and burn CBS to the ground. But then Julie tells them they'll be there to coach them and not play the game with them.
So let's bring in the coaches. First through the door is Dan (Season 10 winner). He's followed by Britney (Seasons 12 fan favorite). Mike Boogie (season 2 player and  season 7 winner) enters next. And last in is Janelle (Seasons 6 and 7 fan favorite).
Everyone is mingling and getting to know each other and it seems everyone is pretty convinced Willie is Russell's brother. I wasn't sure it would be kept a secret all summer, but I must say I'm surprised everyone knows right away.
It's time to head to the backyard so the coaches can pick their players and start the first HOH competition. Britney gets to pick first and she picks Shane because he looks strong. Boogie picks Frank for the same reason. Janelle goes for Wil for basically the same reason (he's a triathlete). Dan goes for Kara.

Dan's Team: Kara, Danielle, Jodi.
Janelle's Team: Wil, Ashley and Joe.
Boogie's Team: Frank, Ian and Jen
Britney's Team: Shane, Willie and JoJo
The coaches won't be playing in the first HOH but they'll be the ones picking the HOH and sending home the first contestant, meaning the coach with the winning team picks the HOH and the coach with the losing team has to evict someone right away.
Team Britney wins the first challenge. Team Janelle comes in second place and Team Boogie third. Dan's team comes in last so it's up to him to evict the first person of Season 14.
Britney chooses Willie (I seriously keep typing Russell by mistake) as the first HOH and at first I was annoyed by that, but her explanation makes perfect sense. She thinks Willie needs the HOH to be safe from eviction to make some alliances and get that instant target off his back.
Dan immediately rules out Kara for elimination, so he talks with Jodi and Danielle to help make his decision. Of course they each throw each other under the bus (I mean who wouldn't do that?) but Dan ultimately chooses Jodi for eviction.
But Jodi fans, don't fear, you can be about 95 percent certain she went off to sequester and will eventually get the chance to re-enter the game. Think about it: there's no way there's only 10 evictions (before the final two) left all summer…
My overall thoughts: I like the twist. At first I thought it was a bad idea to have four returning players condescend the newbies as coaches, but I think it's going to be a fun addition. They can add a whole new level of gameplay and serve as a second brain for each of their teammates. Right in the door, I'm like Team Britney and Team Boogie.
What did you think of the Big Brother 14 premiere? Whose team are you rooting for?
After tonight's west coast premiere ends, the Live Feeds and Big Brother After Dark will launch (that's 1AM ET / 10PM PT) so get your BB live feed account signed up and ready now. Remember that you'll be able to watch using your Apple and Android mobile devices tonight. You can also download our free Apple app and Android app to stay updated.