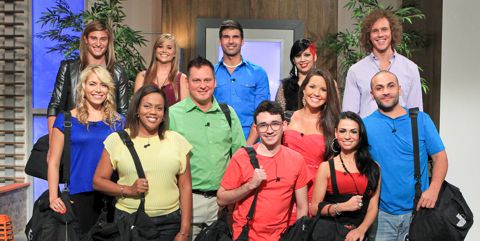 Big Brother 14 is back and we'll be right here on this post discussing tonight's season premiere as it happens. We'll soon be able to confirm the returning Vet HGs, the rest of the twist details, who won HoH, and whether or not we'll have a surprise eviction by the end of the night. Then everything will wrap up tonight with the launch of the Big Brother Live Feeds so get yours now with the free trial and be ready to watch.

Click Here to Get the Big Brother Live Feed Free Trial
Before we even get started, Big Brother reveals one HG will leave the show tonight. Oh no! Rumors had it that Jodi Rollins, one of my favorites, might have been the one since no one could find her in the leaked Live Feeds images.
First up we've got the season's new Big Brother 14 HouseGuests. If you haven't learned about them in-depth yet then I recommend you watch our preseason interviews to get inside their game and see how they plan to play. This looks like a great group of HGs!
Don't forget to join us on Facebook, Twitter, & by email updates for all the latest news!
Big Brother 14 Returning HGs:
Dan Gheesling
Janelle Pierzina
Mike Boogie Malin
Britney Haynes
It appears the Vets did not know who else would be returning along with them. Now the Vets will select their teams for the season.

Big Brother 14 Mentor & Newbie pairings:
Britney's team: Shane, Willie, JoJo
Boogie's team: Frank, Ian, Jenn
Janelle's team: Ashley, Joe, Wil
Dan's team: Kara, Danielle, Jodi
Next twist: the 12 HGs received an invitation rather than a key. There are only 11 keys. 1 HG is about to go home at the hands of the losing team's mentor. The winner team's mentor will pick the HoH.
Britney's team wins the race, but second place is still up for grabs. Janelle's team locks down second while Boogie's team is third. Before Dan picks someone from his team to go home Britney picks Willie as the first HoH.
Dan talks with each of the three HGs on his team and then makes his decision.
Big Brother 14 first elimination:
After tonight's west coast premiere ends the Live Feeds and Big Brother After Dark will launch (that's 1AM ET / 10PM PT) so get your BB live feed account signed up and ready now. Reminder that you'll be able to watch using your Apple and Android mobile devices tonight. You can also download our free Apple app and Android app to stay updated.