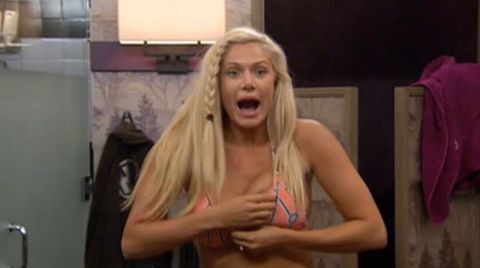 Big changes start from small beginnings in Big Brother 14. Last night we saw one of those small moments quickly evolve in to the potential for some dramatic and surprising events this week in the game. Where it goes from here is anyone's guess.
The obvious decision to target the coaches seemed to have slipped right past the newbies until Boogie, a former coach turned HG, presented the idea to Britney in a private discussion last night on the Live Feeds. Watch the conversation play out on Flashback at 8:46PM BBT (8/4) or read on for all the details.
After tossing around some eviction ideas and scenarios Boogie offers up his "curveball" but first asks Britney to promise not to repeat this as it could cause him a lot of trouble in the house. Boogie suggests they get Janelle put up as a renom on Monday since they won't have many opportunities like this in the future. Britney says she thinks Danielle would be open to the idea and encourages Boogie to "put the wheels in motion" to see where it goes.
Boogie takes the plan to Danielle in the HoH room at 10:12PM BBT. He suggests this is their opportunity to get out a "really, really, really dangerous player." Danielle smiles and says she won't say she hasn't considered it.
Dan heads upstairs at 10:31PM BBT to talk about Boogie's new plan. Meanwhile Britney and Danielle head to the arcade to have the same conversation.
Jump a little later to 11:00PM BBT and you'll find Danielle, Dan, Shane, and Britney as they discuss the option. Shane is confident they have the votes to evict Janelle if they decide to go after this. Dan is holding quiet and does not seem convinced. He may be the holdout here. Britney says she'll wait for Dan's decision because she values his insight.
The night wraps up with Dan an Danielle in the HoH room at 2:38AM BBT. Dan insists Danielle is playing this personally rather than strategically. Danielle says she isn't. Yes, she is. Danielle won't nominate Janelle unless they can guarantee her eviction. Dan continues to push Danielle to make strategic moves and not personal ones.
If Dan holds against this plan like he's doing now then I don't think it'll happen. Danielle isn't likely to go against his advice, but of course it could still happen. Keep your eyes and hears on the Live Feeds today as we approach Monday's Veto Ceremony where Danielle will have to make the big decision.
If you don't have your Feeds yet then sign-up now for get your 3-Day Free Trial.
Update: Flashback to 3:30PM BBT on Sunday (8/5) to find Boogie continuing to push for Janelle to go up as a renom for eviction. He makes a lengthy, convincing argument before leaving Brit, Shane, Danielle, and Dan to discuss. After some heavy debating the group decides they won't take the bait (4:15PM BBT). Janelle now looks to be safe with Frank & Wil staying on the block and Frank going home.
Update 2: Looks like the plan is back on to blindside Janelle. New report with all the details coming up soon.
click images to see full-size