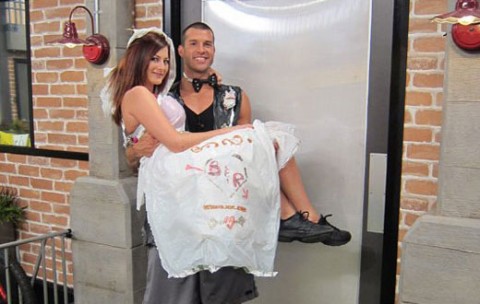 This week on Big Brother 13 we said goodbye to Brendon once again. Daniele might be the main factor in that outcome, but not the only one.
Brendon's game play also put him out of the house. Twice. Sure, he's a fantastic physical player. But the first thing he (actually Rachel) did wrong was fight too hard. Brenchel tried too hard too fast. As almost everyone in the house told them, they didn't need to win everything. Sure they were hated last summer. But this didn't have to be last summer.
They could've laid low for awhile and built up a better social game. They immediately had the support of Jeff, Jordan and Daniele, so they didn't need to come right out fighting. Being overly-competitive is not always a good thing.
Speaking of social games, Brendon's was horrible. He was a nasty bully to all the women in the house, starting with Cassi. He also attacked Kalia, making fun of her weight. He took on Porsche. And near the end, he even gave Jordan some lip. But the woman who took most of his abuse was Rachel. Just because she's his "fiance" does not give him the right to talk down to her and make her feel and look stupid. Constantly. The house guests did not respond well to his bullying of them or Rachel.
I'm actually ready to see Rachel play the game without Brendon. I've developed a love-hate relationship with that crazy person. She usually makes me want to scratch out my own eyes, but I think I'll miss those bitchy glares and that crazy laugh. And she's the first person to realize Shelly is a snake. Rachel's good TV. I think with Brendon out of the picture, a lot more people will change their thoughts on Rachel.
It's pretty clear to me why Brendon is out of the game. Is it clear to you or am I alone? I sometimes feel like I'm watching a different show. America even voted Brendon to return to the game. Do people really like him that much or were they voting for more drama? I will never understand how he won or fully believe it.