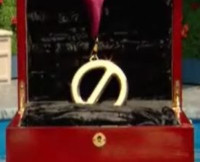 Another week, another great big Power of Veto competition with fates hanging in the balance. This time around there were seven HGs competing for the power and the safety of changing the nominations or leaving them just the way they are.
While Daniele may have told the new HoH that she'd avoid winning the power she sang a different tune just minutes before going in to the competition. Can this Veto champ pull out another win or are her days numbered?
Read on to find out who won and what that means for the game this week.
Big Brother 13 Week 7 Power of Veto results:
Now Jeff has the chance to take either Kalia or Porsche off the block and renom Daniele. If that happens then Daniele will go home. HGs are discussing the scenarios right now on the Live Feeds. Kalia is sweating it and Shelly is going over it with her.
Click here to start your Free 3-Day Trial of Big Brother Live Feeds!
The players this week were Jeff as HoH with Kalia and Porsche as the nominees. Adam, Shelly, and Jordan were selected to play. Daniele was added in with her Veto Ticket from last week. Rachel hosted.
The Veto ceremony will be held on Monday, so we'll soon know if anyone will be renominated. Stay close by and we'll let you know as soon as that happens, but the real action will be the on the Live Feeds (Free Trial).
What do you think of the PoV Comp results?