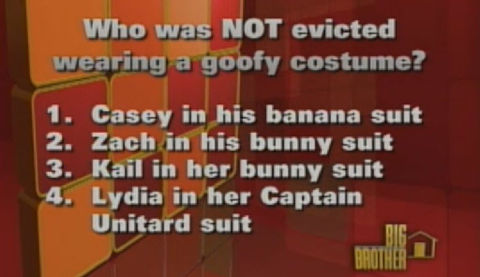 This isn't the happiest of Big Brother 13 Live Feeds news I could share, but it's important and you'll want to know what's about to start happening on the Feeds.
Around 2PM BBT this afternoon (Tuesday) the Live Feeds will be temporarily turned off so the HGs can perform the next eviction and follow on competitions for Head of Household and Veto. While we don't know for sure when they will turn back on it's safe to assume we won't see feeds again until after Wednesday's broadcast. CBS will want to protect the surprise of Kalia's eviction, I mean whoever's eviction it might possibly be (Kalia), along with the competitions. This is similar to what happened last year during the final full week of the show. Yes, it stinks. No, we can't avoid it.
Luckily, RealNetworks wants to turn that frown upside down with some pretty good filler events on the Live Feeds. Here's what they'll offer starting today at 2PM BBT:
Tuesday @ 2PM – 3PM PT: Live Chat with Howie (BB6/7) and Kevin (BB11)
Tuesday @ 3PM – 4PM PT: Janelle (BB6/7) and Howie (BB6/7) hosting a show
Tuesday @ 4PM – 5PM PT: Games with Howie (BB6/7) and Kevin (BB11)
Tuesday @ 5PM – 6PM PT: Happy Hour with Howie and Kevin
Tuesday @ 6PM – 2AM PT: Big Brother 13 Live Feed season highlights
The only way to watch these events is with the Live Feeds – get the Free Trial.
If you're wondering about Big Brother 14 After Dark playing tonight, then sorry to disappoint again, but that content was recorded earlier today to playback during the regular time. We're not expecting a new After Dark with live content until Wednesday night.
With all that in mind we probably won't know for sure who is evicted, who becomes the next HoH, and who wins the almighty Veto until Wednesday night's show is over.
One glimpse of hope I can offer is that last season we received leaks from the filming of the episode during the blackout. Be wary that there will be lots of false rumors, but we'll try to weed through and find reliable sources to keep you updated.