Since we knew the Live Feed's were going down this week we held off on Shelly Moore's interview until now. See what she has to say about her blow up with Jordan and voting Jeff out of the house.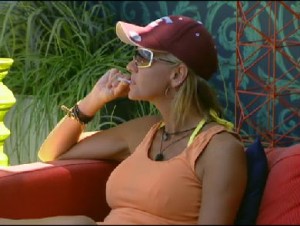 Chloe:  Shelly, did you come into the house with the strategy to play all sides to try for a great social game? If not, what was your strategy and how did it change once you entered the house?
Shelly:  I absolutely came in to play a social game. That was my strategy from the beginning. To make an alliance and play sides. I know that of all the great competitors I've seen that social would be my best strategy in the game.
Chloe:  Who would you rather play the game with, Cassi or Jordan and why?
Shelly: Well, I would have absolutely have loved to play the game with Cassi. I loved playing with Jordan , but Jordan had Jeff which was a disadvantage for me since they are a couple that will likely be together for life. With Cassi, we were just kindrid spirits. She is an absolute first class lady and I would have loved to play the game with her more. She is smart and intelligent but unfortunately some of the catty females couldn't handle how beautiful she is. I can't wait to see her again.
Chloe:  You haven't said much about Porsche opening Pandora's Box, which is a big reason you are now a member of the jury. Do you hold any resentment towards her for not thinking things through?
Shelly:  Yes, I do a little bit. I think Porsche should have thought things through and it was a miracle after the fast forward that we all made it through. Unless it was something crazy good that you couldn't refuse, don't mess with anything. But, Big Brother knows how to tempt people and they gave her champagne, and she likes champagne. If I had been in that position, I would not have opened it. I think it could have been a half a million dollar decision for her.
Chloe:  I was surprised to hear you tell Julie you regretted your decision to vote out Jeff. Do you also regret voting out Keith and betraying the newbie alliance in the beginning?
Shelly:  No, absolutely not. I don't regret voting out Jeff. I regret that it hurt them. Voting out Jeff was a game move and I needed to make that move beyond a doubt. I thought they would have understood it was a game move and the backlash was really bad. But I would have made that move again.
Chloe: Who do you most want to see in the final two?
Shelly:  I think Porsche, Rachel and Jordan will make it to the end.
Chloe:  You appeared very calculated in your moves throughout the season, but the blow-up with Jordan seemed self-destructive. Was that planned or pure emotion?
Shelly:  It was emotion. I certainly would never have gone in there to get the backlash that I did. If I had known it would have turned out like that I wouldn't have gone in there.