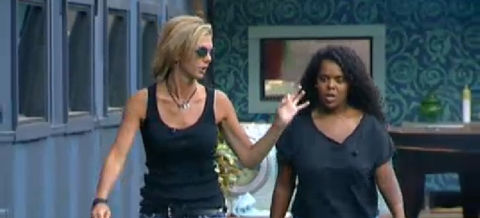 Like any good Monday in the Big Brother game we're about to see some craziness in the house today ahead of the Power of Veto ceremony. Last night a plan was put in to action and amazingly, it worked. It worked really, really well. I'm a little shocked at the change of events, but it is going to be a wild week if all of this goes through.
Flashback to last night at 6:59PM BBT Cam 1 to find Shelly and Kalia discussing the upcoming Big Brother 13 twist and how to handle the renomination decision she has to make on Monday. Shelly actually manages to convince Kalia that her best move is to renom Porsche because she's weak rather than Adam and then evict her instead of Rachel. Shelly convinces Kalia that she will gain the support of Jeff, Jordan, Rachel, and Adam if she goes after a floater instead of a competitor. Kalia buys this new idea in full and goes to sell it to Daniele.
Big Brother Live Feed Flashback time:
August 7, 2011 @ 6:59 PM BBT on Camera 1
August 7, 2011 @ 7:25 PM BBT on Camera 3
August 7, 2011 @ 8:18 PM BBT on Camera 3
August 7, 2011 @ 8:45 PM BBT on Camera 3
August 7, 2011 @ 10:15 PM BBT on Camera 1
Uncensored Live Feeds Free 3-Day Trial – Sign-up Now
Flashback to 7:25PM BBT Cam 3 and you'll have Kalia sharing this new plan with Daniele. Daniele is not liking this plan at all. She reminds Kalia that just the other day Rachel swore up and down that her target was Daniele and now Kalia wants to keep her. Kalia believes this will get the other HGs off their (hers and Daniele's) backs for a few weeks. Daniele strongly resists this new plan and does not like it.
Kalia pulls Shelly back in to the HoH room (Flashback to 8:18PM BBT Cam 3) to discuss how things went with Daniele. Kalia is still on board with this new "keep Rachel" plan, but wants Shelly to get confirmation that JeJo and Rachel won't come after her if she goes after a floater like they want. Kalia tells Shelly that Daniele is starting to worry her. Daniele warned her she'd move to keep Porsche if Kalia moved to evict her.
Next step in Shelly's plan: get Jeff to go back "besties" with Kalia and support this "keep Rachel" plan. Flashback to 8:45PM BBT and you'll have Jeff sitting down with Kalia. Jeff plays the part and says he'll be on board for this plan to keep Rachel and go after floaters. He reiterates that it's what he wants. (It isn't. Jeff told Jordan his real plan is to fake left while going right and still go after Daniele/Kalia.) After Jeff leaves Kalia starts counting votes out loud and discussing all the possibilities.
Daniele remains completely unhappy with this plan and goes back to talk with Kalia. Flashback to 10:15PM BBT on Cam 1. Daniele is very worried that they're about to hand the Veterans exactly what they wanted. (They are. Well, a Daniele eviction would probably be even better for them, but this is close.) Kalia says she'll make a deal with Rachel that will cover them both. Daniele says it looks like she'll get to spend her birthday (next week) alone in the Jury house.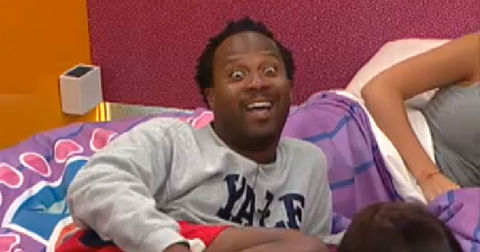 Things get even weirder though and the plan changes from Shelly's original suggestion. Flashback to 1:45AM BBT Cam 1 for Lawon's idea that he should be the pawn, not Porsche. Lawon suddenly thinks this week's evictee will get to come back as the new HoH and he wants that power.
Big Brother Live Feed Flashback time:
August 8, 2011 @ 1:45 AM BBT on Camera 1
August 8, 2011 @ 2:11 AM BBT on Camera 1
Uncensored Live Feeds Free 3-Day Trial – Sign-up Now
Later (2:11AM BBT Cam 1) Lawon, Porsche, and Daniele continue working Shelly's their new plan to keep Rachel by evicting Lawon. Lawon is really excited about getting evicted. Sigh. Poor Lawon. They're even working on returning one-liners for Lawon (similar to last season's "I'm back, bitches" from Rachel). I haven't seen Kalia involved in this new evict-Lawon plan, but if Daniele supports is this strongly then it's likely that so will Kalia. Daniele's parting line: "this is genius!" No it's not.
So there we are. Kalia is likely going to renom one of her own this afternoon. Then come Thursday night Rachel will stay and Lawon or Porsche will battle either Cassi or Dominic (the two leaders in most polls we're seeing). I can't imagine much worse than Cassi and Lawon facing off in what will have to be a physical battle (can't do quizzes since evictees don't know what's gone on), but at least it'll be dramatic.
What do you think of this new plan? Could this possibly work out well for Kalia, Daniele, and Lawon or will they regret this move when/if it backfires?
Update: Flashback to this morning at 10:18AM BBT (all cams) to hear Daniele and Kalia discussing this evict-Lawon plan. They're still on-board and planning to renom Lawon at today's Veto ceremony. They're plotting to really let Lawon get screwed and they don't care either way. Who needs enemies when you've got an ally like Daniele?!