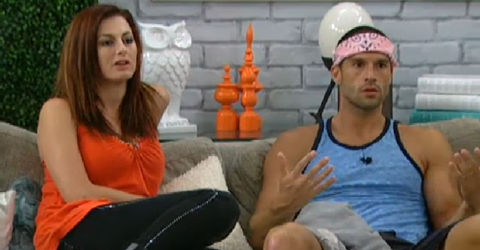 Today in the Big Brother 13 house the Veto Ceremony will be held and a big decision will be made. Daniele is faced with the challenge to either trust Brendon and Rachel one more time or stick to her guns and force them to march down the path to a Brenchel break-up. Read on to see what we can expect later today.
There's no way around this decision for Daniele. Brendon is going to use the Veto in a few hours and while we previously heard Brendon was definitely going to save himself things are a little more uncertain right now. Whatever happens, Daniele has to put someone new up against the remaining half of Brenchel. She's faced with the choice to try and trust a "forgiving" Brenchel on some level by putting up a Newbie or trusting her gut and putting up Jordan.
Last night (Flashback to 10PM BBT) and you'll find Brenchel making one final push for safety. They offered to wipe the slate clean and start over with her. Lawon is their top suggestion as replacement nominee as he doesn't especially have someone backing him up that will seek revenge against Daniele.
I can't imagine Daniele is going to back down at this point, but she's said she is nervous about Brendon staying in this house and seeking revenge. If she renoms Jordan then Rachel goes home and Brendon is definitely coming after her. If she renoms Lawon then Lawon probably goes home and Brendon might still come after her (I think he definitely will, despite what he says.) Of course if that all changes and Brendon saves Rachel then Daniele would still face the wrath of Brenchel.
Click here to start your Free 3-Day Trial of Big Brother Live Feeds!
Even right now (Flashback to 9:45AM BBT) Brendon and Rachel are debating who is the better of them to stay. Brendon is talking about how they'll see who has his back when the votes come in. He's also coaching her on how she'll have to play without him. Hmm, has Brendon being been trying to fake Daniele out and is going to save Rachel afterall? Sounds like there's a good chance Rachel is about to be saved.
Stay tuned and we'll have the spoilers for you this afternoon as soon as the Live Feeds return and we have the results.
Who do you want to see saved: Brendon or Rachel? Who should Daniele renom?