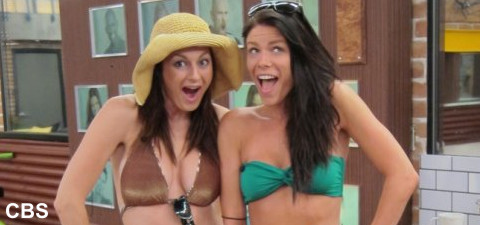 Who doesn't like a good power shift in the game of Big Brother? We had a big one last night and just at the right time to keep the momentum rolling after a week full for fighting and betrayal like this season had yet to see. Now that there's a new sheriff in town we'll be getting the nominations later tonight (Friday) and so far the targets are pretty clear. Read on to find out who we can expect to see on the chopping block.
With Daniele in power it isn't hard to imagine who is sweating tonight's nominations: her former alliance. Nothing says "go team!" like a knife in the back, right? Her options are wide open, but most likely wouldn't include Kalia or Lawon, her only two allies at the moment. That leaves Shelly, Porsche, Adam, Brenchel, and JeJo. Considering Daniele's vengeful attitude these past few days I think we see where this is going.
Minutes after the HoH endurance competition completed and Daniele was crowned victor she pulled a tearful Jordan aside and repeatedly promised Jeff and Jordan safety this week. (Flashback 8:34PM BBT) So if she isn't nominating Jeff and Jordan, then she must be nominating…
Jump forward to 10:00PM BBT and you'll find Rachel talking with Daniele. Rachel flat out asks if Daniele is going to nominate them. Daniele skates around the question by saying she isn't sure yet. Rachel tries to leave the door open by asking Daniele to talk with them later and see if they can find a deal to benefit everyone.
Click here to start your Free 3-Day Trial of Big Brother Live Feeds!
A little after 1AM BBT Kalia and Jordan have a similar conversation to Daniele's promise earlier. Kalia assures Jordan that they're not the targets.
Just before 2AM BBT Rachel tries to get in one last swing at safety with a visit to Daniele. Rachel again presses to make a deal. She reminds Daniele that they (the Vets alliance) will have at least 3 of the 7 Jury votes which of course Daniele takes as a threat. Daniele says she wants to sleep on it and will think about it more in the morning.
Right now I'm fully expecting a Brendon and Rachel nomination. Daniele even has her nomination speech all worked out. Unless a new plan catches Daniele's eye things should be all set here. But the nominations aren't the end of it. We'll also get the Veto competition on Saturday and then the PoV ceremony on Monday. We could have a whole different scenario come next week, but that's why we like this game so much, right?
Want to find out for sure when the nominations are revealed tonight on the Live Feeds? Join us on Facebook, follow us on Twitter, grab those email updates, or even our free mobile apps! Lots of options to keep you connected to the latest Big Brother spoilers.