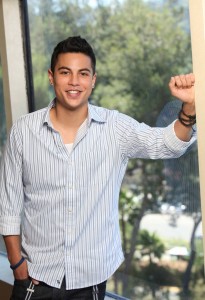 Dominic became the third victim of Team Brenchel as he walked out of the house in a 7-1 vote to evict last night on Big Brother 13.  I was surprised at the big applause he received when he opened the door.  People gave him a standing ovation. People must really be sick of Brenchel to like him so much.  I hope he somehow gets voted back in so he can help Daniele.  See what he says about his time in the Big Brother house.
Chloe:  Who did  you like hanging out with more, Cassi or Daniele and  why?
Dominic:  Daniele, because she is funny, witty, she's always got comeback and she's always joking around. She doesn't take herself too seriously at all.
Chloe:  How do you feel about Shelly and her game play?
Dom:  I  genuinely like Shelly as a person, but I couldn't stand her game play and the fact that she relied on her cleaning and rode on others coattails the entire time without having the guts to stand up to anyone.
Chloe:  What did you think when Adam asked to be your partner and do you wish you had teamed up with someone else?  If so, who?
Dom:  As soon as   Adam asked me to be his partner I thought it was a great idea b/c I thought he would obviously make himself a big target or sink his own ship through his overbearing personality.  I don't wish that I'd teamed up with someone else b/c from the get go, Adam was always a bigger target because of his knowledge of the game and people always liked   me more on a personal level than Adam.
Chloe:  Did you really throw the pov comp?
Dom:  Yeah, absolutely. I had that word "conditioner" in my head and would have tried playing the word "unconditionally" had I not been throwing the competition.
Chloe:  What was your biggest mistake in the game?
Dom:  My biggest mistake was not trusting the veterans sooner and thinking they were trying to get me to turn against the newbies when they really wanted to play with me.
Chloe:  Why do you think two of the newbies turned in the first vote to evict Keith?
Dom:  Kalia and Shelley definitely cast those votes week one. They jumped ship because they were too intimated by the veterans to go against them and too intimidated of their own partners that they felt they needed additional protection if they did go up on the block.   And because they are spineless jellyfish!
Chloe:  In your opinion does Daniele have what it takes to beat the two couples?
Dom:  Yeah,  absolutely. Its obviously going to take a little bit of luck and a few things to go her way, but no one in that house can compete with her on a physical or mental level.