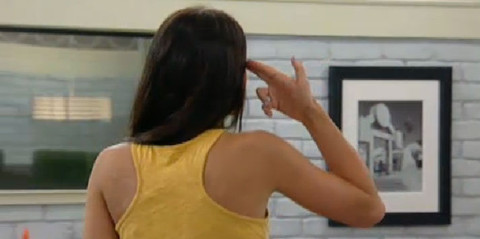 It's as cliched as "expect the unexpected," but few things go to plan in the Big Brother house and this week is no different. After yesterday's Power of Veto competition the new Head of Household was hit with that reality and left scrambling to find a way out of this mess. Read on to find where things stand as we head toward Monday's Veto ceremony.
With yesterday's Veto results everyone knew Brenchel would still be split up, but the choice was no longer left up to the house. Now things are even more complicated for Daniele since she found out from Shelly (Flashback to 8PM BBT 7/30) that Brendon would be saving himself and not Rachel as most HGs had expected.
Daniele's target for eviction had been Brendon since she found his Veto-winning skills more threatening than Rachel's HOH-winning skills, but she seems to be more than happy to settle for seeing Rachel go home. Now she just has to make sure that will still happen despite changing the match-up for eviction.
Her main two options are Jordan or Porsche. Daniele now hopes to work with Jeff and is worried that renom'ing him would be too risky while Jordan is well liked enough to, Daniele hopes, survive a face-off with Rachel. Then there's Porsche who Daniele recognizes as an ally to Brenchel. By putting Porsche up she'd be taking away a vote in Rachel's favor should the house decide to try and keep her in a last minute switch-up.
Daniele is very nervous about putting Jordan up, but appears to be leaning in that direction. Flashback to 1:30PM BBT today and you'll see Daniele having that very discussion with JeJo. I think it's a terrible idea to ever volunteer to be the pawn, but that's exactly what Jordan is doing. Daniele says if Jordan is sure she (Jordan) has the votes then she'll do it. Oddly enough, Jeff seems to be okay with it and tells her if they get through this week then he'll return the favor.
Keep in mind that there's no tie-breaker this week, so after Monday's Veto ceremony Daniele is a lame duck HoH. Whatever at least four HGs decide to do is what will happen. Jordan believes she has votes from Adam and Shelly while she obviously would have Jeff's support. Kalia should most definitely support keeping Jordan as that's what her ally, Daniele, would want. That's four votes right there which look pretty safe. Well you can never be too sure about Shelly, but I think we can trust her on this one.
What do you think? If Daniele wants to make sure Rachel goes home, then who should she put up as the renomination on Monday?
Update: Flashback to 4:40PM BBT to hear Porsche telling Rachel she'd be okay going home this week if they promise to go after Daniele. Keep in mind that Porsche wants to go home before Jury because there aren't cameras in the Jury House. I'm not kidding.