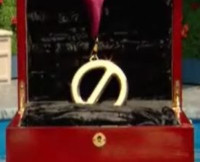 This week's Big Brother 13 Power of Veto competition is over and we've got the results. With the house split along two sides and one player straddling the fence both sets of HGs had their eyes on the Veto prize. No Pandora's Box meddling this time around, just a good ol' fashioned battle for control.
Read on to find out who won and what that means for the game this week.
Big Brother 13 Week 9 Power of Veto results:
I'm very surprised Adam put himself in this position, but here he is. Now he'll have the option to take off a nomination and potentially evict Jordan. Will he?
Right now Kalia is grilling him and he's just smiling back. Is he ready to exact revenge for her vote against him last week? Keep watching to see.
Click here to start your Free 3-Day Trial of Big Brother Live Feeds!
Only five HGs remained so everyone played in today's competition.
The Veto ceremony will be held on Monday. Stay close by and we'll let you know as soon as that happens, but the real action will be the on the Live Feeds (Free Trial).
What do you think of the PoV Comp results?