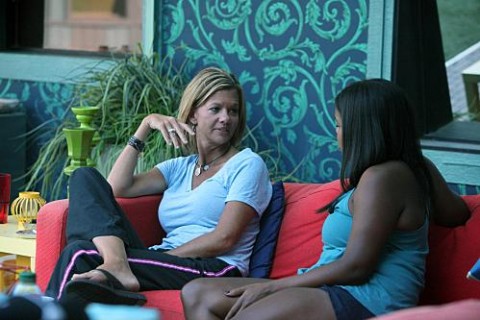 Shelly, the best social-game player in the Big Brother 13 house, said goodbye to her housemates this week as she headed off to jury. Week after week, Shelly played all sides with her lies and deception and went most of the season un-noticed. So what finally went wrong with her game?
Despite what Julie Chen thinks, Shelly's game did NOT go wrong by making the move to get Jeff out too early. Does Chen not realize there's only two weeks left in this game? Weirdo. And not to get off the subject, but Julie's obvious dislike for Shelly was apparent. That doesn't make for a very good host/journalist/interviewer, there Chenbot.
I think the only thing Shelly's game lacked was physical ability. When her lies starting coming out she needed to step up her game and win something. When your first strategy fails, you have to move on to another. And that didn't work for her.
I'm sure most of America thinks Shelly's game went wrong when she turned on America's sweethearts, but they're wrong. Actually, most of America probably thinks Shelly didn't play a good social game while Jordan did/has. Being nice and honest ONLY works for Jordan in this game (and in the real world, I imagine). Jordan's kind of an enigma. She, by all standards, really needs to be shaken and sent back to elementary school. But then you realize how sweet she is and all is forgiven.
Shelly, however, played the game the best way she could. And she did it well. I know people don't like liars or backstabbers. And before I'm called out for my "obvious Shelly obsession," please know that I spent most of the season quietly hating her. I can't stand how she calls her husband the boss of her house or how she thinks all the girls in the house (minus Jordan) are sluts. She's too righteous for me. But I've always stood by my thoughts on her game play.
For a minute there, I was thinking Shelly had the chance to sit at the finale as one of the final two. I never thought she'd get the votes to win the whole thing, but I thought she'd manipulate her way there. But then Porsche and Pandora's Box happened and the rest of the season was handed over to the boring half of America … they/you can now enjoy two weeks of boring, drama-free shots of Adam eating bacon, Kalia sleeping, Jordan trying to remember what 2+2 is and Rachel winning Big Brother 13. Example: Right now, on Big Brother After Dark, they're talking about prom. Grown women. Talking about prom. Enjoy, America!