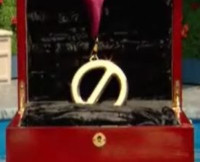 This week's Power of Veto comes with a lot more than just the power to replace a nomination. Thanks to the return of Pandora's Box on Friday the winner of the Veto will be able to remove both nominees and control the eviction votes. Lots at stake here.
Read on to find out who won and what that means for the game this week.
Big Brother 13 Week 8 Power of Veto results:
Rachel won the Veto which makes Jordan safe as well. They both will come down off the block due to Pandora's Box twist. The only options are for Adam and Shelly to go up on the block. Turn on your Live Feeds right now and watch the Newbies sulk.
Click here to start your Free 3-Day Trial of Big Brother Live Feeds!
Since only six HGs remained, everyone played and due to the new twist everyone was paired up. Porsche & Kalia, Adam & Shelly, and Rachel & Jordan.
Sounds like it was an endurance comp. Jordan says she feels bad that she didn't hang on longer. She told Rachel, "you won." Rachel responded, "we won." In the other room Kalia is getting bandaged up.
Adam fell off first. Jordan fell second. Porsche, Kalia, and Shelly fell somewhere in between while Rachel held on the longest. Some sort of endurance competition for sure, possibly hanging from how they're talking. More info: they had to hang on to dummies, and no, it wasn't the Regulators.
The Veto ceremony will be held on Monday. Stay close by and we'll let you know as soon as that happens, but the real action will be the on the Live Feeds (Free Trial).
What do you think of the PoV Comp results?