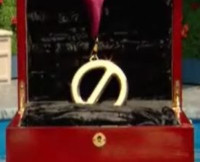 This week's Big Brother 13 Veto competition was critical to more players than possibly any previous Veto comp this season. With two floaters nominated last night the options were wide open for someone to be backdoored. Once the Veto players were selected one of the couples began to panic when they realized they're most likely doomed while the HoH celebrated her luck in the picks.
Read on to find out who won and what that means for the game this week.
Big Brother 13 Week 6 Power of Veto results:
Daniele has won the Veto Competition (90% confirmed).
Jordan just said Adam won the Veto. An hour collecting info was wasted. Sorry. It was not Daniele. She won a "PoV ticket" instead. Whatever that is.
Once confirmed, she will hold all the power. Will she backdoor Brendon or Jeff? I don't think she'll waste this week on a Newbie.
Turns out that Daniele won a "Power of Veto ticket" which lets her play whenever she wants (ie. when not picked). She did not win the Veto itself. Adam won the Veto. He will definitely use it. There will be a renom.
Other alleged "wins": Shelly won a phone call + confinement, Jordan got the unitard, Jeff won cash, and Kalia got a vacation. Not bad for some folks. Jordan doesn't mind her punishment and Shelly could use some time away from the chaos.
Click here to start your Free 3-Day Trial of Big Brother Live Feeds!
The players this week were Daniele as HoH with Adam and Shelly as the nominees. Then Jeff, Jordan, and Kalia were selected to play. Porsche was the host.
The Veto ceremony will be held in the next few days, probably Monday, so we'll soon know who will be renominated. Stay close by and we'll let you know as soon as that happens, but the real action will be the on the Live Feeds (Free Trial).
What do you think of the PoV Comp results?
click images to enlarge