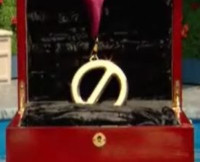 The Power of Veto Ceremony is over in Big Brother 13 and while the results may not be as wacky as last week's renomination of Lawon I think we're still going to see a lot of sparks flying. Daniele is back on the war path and won't stop this time. Well, probably not at least. I mean, if she considered Brenchel's deal before then maybe she'll do it again, right?
Read on for your Big Brother 13 spoilers to find out what happened today at the Veto ceremony.
At today's Power of Veto Ceremony, this week's winner of the Veto, Adam, of course decided to use the Veto to take himself off the block and insure his own safety.
Daniele was required to name a replacement nominee to fill the void on the block. Daniele named Brendon to replace Adam and will now face off against Shelly for possible eviction on Thursday and become the first member of the Jury.
Click here to start your Free 3-Day Trial of Big Brother Live Feeds!
There are six potential votes out there for Thursday night. Three are required to avoid a tie-breaker. Let's see what happens!
What do you think? Which of these two will be evicted on Thursday's live show? Share your thoughts below then watch the fallout on the Live Feeds (get Free Trial).
Be sure to sign-up for the free Big Brother email updates, join us on Facebook, follow us on Twitter, and grab the free Big Brother Toolbar.