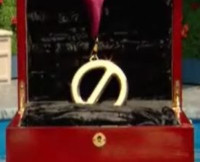 Whoa! It's felt like a long time since we've had a night time competition and Big Brother 13 nearly surprised us with the move, but it turned out to be a trick. Late last night, after an explosive Nomination ceremony, Kalia was called back to the Diary Room and informed that Veto players would be picked right then. But after a night of waiting, the Veto didn't play out until this morning. Welcome back, Big Brother drama! Where have you been all summer? We've missed you.
Read on to find out who won and what that means for the game this week.
Big Brother 13 Week 5 Power of Veto results:
Jeff has won the Veto Competition.
Jordan is nervous that she'll be renom'd, but Kalia is talking in the HoH room now and it really doesn't sound like she'll do that. Daniele wants Kalia to renom Adam. Kalia is nervous about renom'ing Porsche as she might go home. Sounds like it'll be Adam getting the renom spot. Do you think that's Kalia's best move right now?
Click here to start your Free 3-Day Trial of Big Brother Live Feeds!
The players this week were Kalia as HoH with Rachel and Jeff as the nominees. Then Jordan, Adam, and Shelly were selected to play. Porsche was the host.
The Veto ceremony will be held in the next few days, probably Monday, so we'll soon know whether or not the power will be used. Stay close by and we'll let you know as soon as that happens.
What do you think of the PoV Comp results?